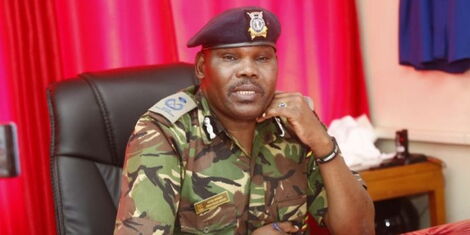 The prime suspect in the brutal murder of a 21-year-old woman in Nakuru County on December 2022 has been arrested.
Nakuru County Police Chief Peter Mwanzo confirmed that the suspect, a student of Kabarak University, was smoked out of hiding in Uasin Gishu County on the night of Wednesday, Jan. 11.
The suspect did been on the police radar for the past month, according to Mwanzo.
The deceased body was found dumped on the Ngata Bridge along the Nakuru-Eldoret highway on Jamhuri Da.
Nakuru County Police Chief Peter Mwanzo addresses the press at a previous rally.
K24 digital
Mwanzo also revealed that investigators have taken samples from the victim's body to determine who else was involved in her murder.
"We hope that he (suspect) will cooperate with the police so that the family gets justice. We have yet to establish the relationship between the two and the motive of the murder," he revealed.
According to the deceased's father, he last spoke to his daughter on December 11, 2022 at 8 p.m.
"She told me she was preparing dinner and she was with her older sister. She told me to greet her mother," he revealed.
He further noted that his daughter told her sibling that she was invited to a friend's party in Kabarak.
"She said she wouldn't like to miss it and promised to come back in the morning," he added.
While recording their statements to detectives, her sister informed them and the family that the deceased was in constant communication with someone on the phone, who asked her why she stopped.
Consequently, the suspect's arrest was the result of a transaction in which he sent money to the deceased. The deceased would now use the money as a bus ticket to the location of the party.
Furthermore, the police determined that the suspect was the last person seen with the deceased in the area where her body was found.
However, it was determined that the nature of the crime could not have been committed by one person. The suspect will be arraigned on Friday.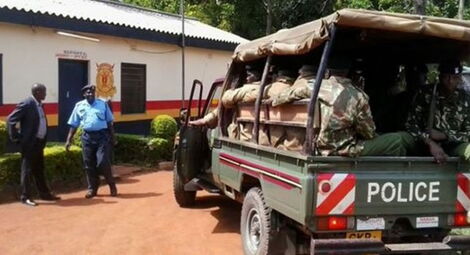 Kenya Police officers pictured outside a police station.
File
murder to arrest suspect