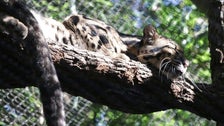 DALLAS (TBEN) — Dallas Zoo officials said Friday that a missing clouded leopard had been found after a daylong search. Evidence was found that the fence of the little cat's habitat had been "deliberately" cut, police said.
The zoo tweeted that the cat named Nova, who weighs about 20-25 pounds (9-11 kilograms), appeared uninjured and was found near her native habitat. The search had closed Texas' largest zoo to visitors while staff and police combed the 40-acre site.
The zoo announced that Nova had been found shortly after a press conference in which police said a criminal investigation had been opened. Police and zoo officials said they have reviewed surveillance footage but would not say what it shows or if there are any possible suspects.
"It is our belief that this was an intentional act," said Dallas Police Sgt. said Warren Mitchel.
Mitchell said Dallas police initially sent SWAT officers to the zoo because they didn't understand the size of a clouded leopard. Police drones helped search the zoo grounds, including trees. Harrison Edell, executive vice president of animal care and conservation at the Dallas Zoo, said clouded leopards like to climb.
The zoo tweeted earlier in the day that the missing cat was a "serious situation," but officials said the animal posed no danger.
Another clouded leopard at the zoo, Nova's sister, did not leave its habitat.
Animals have escaped from the Dallas Zoo before. Most notable was in 2004, when a 340-pound (154-kilogram) gorilla named Jabari jumped over a wall and ran rampant for 40 minutes, injuring three people before police shot and killed the animal.