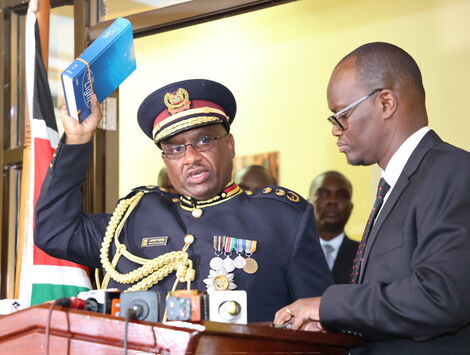 Police Inspector General (IG) Japhet Koome fired a warning shot at criminals and justified the use of firearms on gangs terrorizing Nairobi residents.
Koome expressed his authority moments after he was sworn in to the Supreme Court on Nov. 11.
"Anyone charged with committing a crime, murder or attempted rape to escape, an officer can use a firearm.
"If a cop has arrested someone who has committed a crime, you try to rescue that person, the police can also use their firearms." Koome proclaimed.
Inspector General Japhet Koome takes oath before the Supreme Court on Friday 11 November 2022
Twitter
Zakheem Rajan
His assignment came moments after Makadara OCPD, Timon Odingo, teamed up with Felix Kithuku, Chief of Area Criminal Investigations Officer (DCIO), to arrest gunmen who robbed an Egyptian citizen around South B on Tuesday, November 8, 2022.
"There are increasing cases of robbery of money and property by suspects armed with knives along Mombasa Road," Odingo said.
Hot spots
The OCPD highlighted Capital Hill Business Center toward Belle Vue Stage along Mombasa Road as one of the high-risk areas for pedestrians.
He also pointed out the stretch between Bunyala Stage and Nyayo Stadium, which he said was precarious at night.
However, Odingo assured residents that the police would increase the level of security in the city.
Earlier, Nairobi Police Chief James Mugera refuted reports claiming that crime rates have risen sharply in the city in recent weeks.
Mugera, in an interview with citizen TV on Thursday, Nov. 10, claimed the reports had been manipulated to tarnish President William Ruto's government.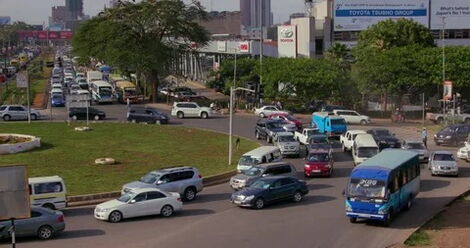 File photo of vehicles passing Nyayo roundabout on Mombasa Road
File
criminal armed murder to arrest suspect armed rape