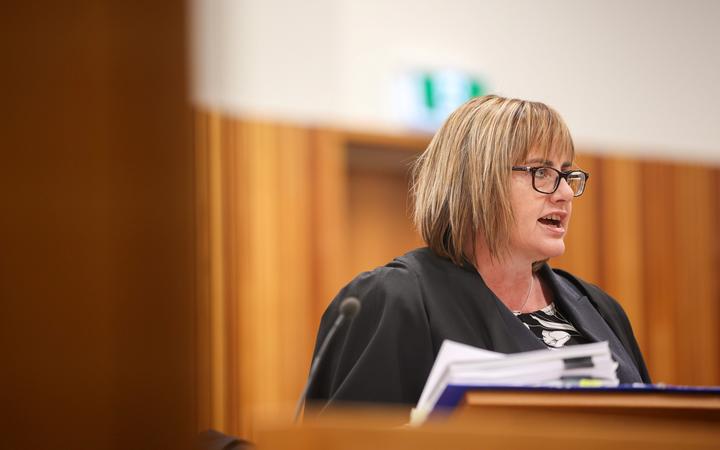 A man who died in custody at Hāwera Police Station last year would have survived if he had obtained medical attention earlier, the New Plymouth High Court heard today.
Allen Ball died in the early hours of June 1, 2019.
Three police officers, all of whom have name deleted, have pleaded not guilty to Ball's manslaughter.
The 55-year-old was arrested late on May 31 after an incident of domestic violence at a residential address in the town of South Taranaki.
Ball was intoxicated and lost consciousness in the police vehicle on the way to Hāwera station and six people had to transport him to a holding cell just before midnight.
He was discovered unanswered about two hours later and pronounced dead just before 3 a.m.
During her introduction, Crown Attorney Cherie Clarke said the officers who handled the arrest breached their duty of care to Ball to such an extent that they contributed to his death.
She said police knew he threatened to kill himself, was heavily intoxicated, failed to respond to pain response tests and could not be awakened in the car or once placed in the recovery position in the holding cell.
Clarke said medical assistance should have been sought as soon as police arrived at the station.
Two of the officers had "blatantly ignored" the alerts that appeared on the police computer, following inscriptions on Ball's condition recommending seeking medical help for him.
Clarke said that at no time after Ball arrived at the police station – at 11:46 p.m. on May 31 until June 1 at 2:26 a.m., when one of the defendants said, "Get the ambo ", no medical assistance was requested.
"By then it was already too late," said the Crown, "Mr. Ball at 2:36 am had stopped breathing.
Clarke said subsequent attempts at CPR were unsuccessful and he was pronounced dead on the floor of Cell 1 at 2:53 a.m.
She told the court that if Ball had gotten medical help, he would have lived.
"The Crown says Mr. Ball died on the ground at Hawera Police Station due to the toxicity of alcohol, tramadol and codeine. Some time before 2 a.m. that morning he was said to have survived what was essentially a drug and alcohol overdose. "
Clarke therefore said the three defendants breached their duty of care to Ball, "to such an extent that each is guilty of contributing to his death."
Susan Hughes QC, representing the oldest of the three accused, opened the defense file.
She told the jury that they had to decide whether her client had breached her duty of care to Ball and, if so, was it a major departure from the expected standard of care, and whether the behavior was out of order. rightly considered criminal.
Hughes told jury members they already knew how Ball died.
"Suicide. He deliberately and secretly ingested a very large amount of codeine and tramadol (pain relievers) and denied it. You know where he died, Hāwera Police Station. You know when he died."
She asked the jury to focus on why her client didn't get Ball's medical help. She said her client and their colleagues believed Ball was "drunk and sleeping in a bender."
She said it was an opinion that was "honestly shared".
"But I tell you they were wrong. They mistakenly believed he was asleep. But this error does not amount to a breach of their duty of care to Mr. Ball and does not amount to a major departure from the law. duty which was due to him and does not merit criminal sanction. "
Hughes said an error in these circumstances was not criminal.
"We expect a lot from the police. We expect the call of duty to be answered at all times at best. We don't expect them to be flawless."
Defense lawyer Andrew Laurenson wanted to know why his client was one of the accused and not just a witness like a number of other police officers on duty that evening.
"I would suggest that you should check to see if there is anything the Crown can pinpoint to establish that there is a duty. Can they nail their flag to a pole? No."
Kylie Pascoe said her client, like many others that night, made mistakes.
"There was human error. The defense is not afraid of this. Mr. Ball was not a drunken man snoring in the cells as he had been assessed, but as it was later determined he had self-poisoned. "
Pascoe said her client was wrong, but she told the jury it wasn't enough to convict them.
"In this case, the Crown has to prove gross negligence – not mere negligence, but gross negligence – and that is a very high standard."
.