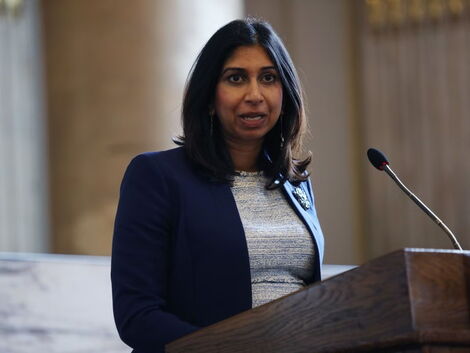 British Prime Minister Liz Truss has appointed Suella Braverman as the new Home Secretary after she took office on Tuesday, September 6.
Braverman whose father is a Kenyan of Christian Goan descent succeeded Priti Patel.
In her new role, she will be responsible for national security, police and immigration policy in the UK. Home Secretary is one of the UK's most prominent and influential positions.
As he accepted the appointment, Braverman recalled how her father, Christie Fernandes, had fled post-independence tensions in Kenya.
File photo of British former Attorney General Suella Braverman
File
"On a cold February morning in 1968, a young man, not yet 21, got off a plane at Heathrow airport and nervously folded his one-way ticket from Kenya. He had no family, no friends, and kept only his most prized possession, his British passport. His homeland was in political turmoil," she stated.
Forty-two-year-old Braverman and mother of two expressed her desire to change migration rules in the UK and develop a new national security policy.
She also pledged to tackle the issue of unhandled asylum cases, burglaries and a crisis of confidence within the police following a string of scandals.
"Great to be at the UK Home Office tonight to meet the team as we begin our work – making our streets safer, supporting our security forces and controlling immigration," she said after the appointment.
She is part of a new team chosen by Truss, who took office on Tuesday, September 6, ending Boris Johnson's era as UK Prime Minister.
In Boris' government, Braverman was the Attorney General and one of the government's key advisers.
After Johnson stepped down, Braverman was among the leaders to throw in a hat to succeed him as leader of the Conservative Party and as Prime Minister of the UK. The race attracted Truss and Rishi Sunak, who also has Kenyan roots. Truss, however, gained the majority of votes and was named Johnson's successor.
Braverman's appointment followed her earlier decision to pledge her loyalty to Truss after being knocked out of the Tory leadership contest in the second round.
In 2018, she got her first ministerial job from Theresa May, where she was appointed as Brexit minister. She resigned from the role, but Boris brought her back to the fold in 2020 and appointed her the country's attorney general.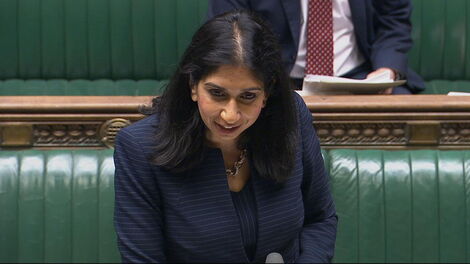 UK former Attorney General Suella Braverman during a debate in the House of Commons on Thursday 7 July 2022
Sky News