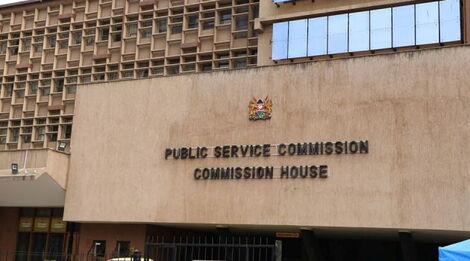 Former Maasai Mara University (VC) vice chancellor Mary Walingo breathed a sigh of relief after the Public Service Commission (PSC) reinstated her in the position.
In a statement on Wednesday, September 7, Simon Rotich, CEO of PSC, directed the former boss of Maasai Mara University to be reinstated pending a case prior to the anti-corruption case. Walingo was fired in 2019 over corruption charges
"Pending the hearing and determination of the anti-corruption case and/or until her contract is lawfully terminated, the applicant will be reinstated after suspension," part of the statement read.
Offices of the Public Service Commission (undated)
Capital Group
The CEO further ordered that the former VC would receive half of her salary and allowances from the date she was suspended.
Walingo was immediately suspended after a Citizen Exclusive piece called "Money Heist" at Maasai Mara University implicated her in an alleged Sh177 million corruption scandal that attracted other university employees.
After the unveiling, Walingo was ordered in 2019 to step aside to clear the way for the Criminal Investigation Department to start investigations.
After she stepped down, Professor Kitche Magak was appointed to take charge before being replaced by Joseph Chacha in January 2022.
Walingo, along with four other university officials, was charged ten times with corruption for illegally withdrawing money in crimes that began in 2016.
In May 2022, Walingo went to court to appeal the university council's decision to fire her.
In May 2022, she appealed to the PSC against the university council's dismissal decision. She later dropped the case after demanding almost Ksh 7.5 million in compensation and damages for what she believed to be illegal.
In addition, the PSC has ordered that Walingo should receive half the salary and allowances under section 62 of the Anti-Corruption and Economic Crimes.
Half (1/2) salary and the related allowances will be paid to the appellant pursuant to Article 62 of the Anti-Corruption and Economic Crimes Act, if this has not been paid from the date of the levy and/or suspension. "
Furthermore, the PSC reinstated her, citing the power of the Institutional Council to remove her from office, and to fire her if it followed the law.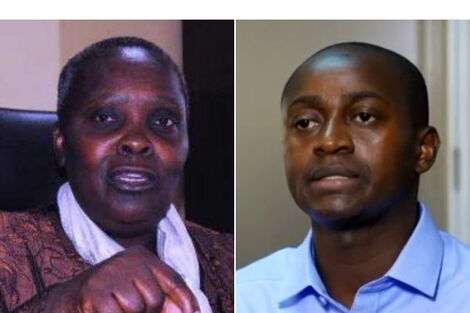 Maasai Mara VC Mary Walingo (left) and whistleblower Spencer Sankale.
File
firework corruption illegal