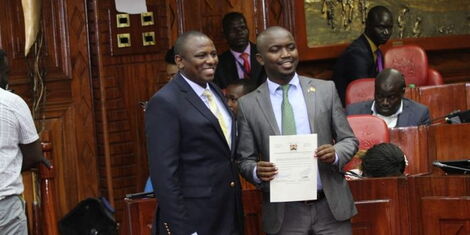 Minority Whip Junet Mohamed and Majority Leader Kimani Ichung'wah clashed over the debate surrounding the government's announcement to import 10 million sacks of GM corn in an effort to fight hunger.
Speaking in parliament on Tuesday, November 22, Ichung'wah defended the government's decision to import GMOs, citing the worrying state of food security in several provinces.
He added that the production of local farmers could not sustain the entire country and had to find additional resources to obtain food.
Newly elected EALA MP Godfrey Karobia with Majority Party Leader Kimani Ichungwa in Parliament
Twitter
Mark Kyalo
"We expect to harvest about 30 million bags this year and our normal consumption is about 40 million bags, so we are definitely short on corn. That is where Junet cut me off because he is averse to truth and facts. He thrives well. on propaganda."
However, Junet raised a point of order, calling out Ichung'wah for allegedly overstepping his role as minority leader.
According to the minority whip, Ichung'wah was mandated to divert the information from the Ministry of Agriculture.
Junet continued the diatribe, accusing the leader of the majority being consumed by power.
"If you say I thrive on propaganda, Mr. Speaker, this man (Kimani Ichungwah) was a very good man before he became the Majority Leader, now power has gotten into his head. We need to send him to rehabilitation bring center during this long break.
"These are small jobs that we get, so there is no propaganda. I told you to go get the answer from the Minister of Agriculture or Industry and ask him why we are importing 10 million GMOs, and the ship has docked. Go and get the information, you're just a messenger,' Junet lashed out.
Trade Cabinet Secretary Moses Kuria sparked a debate after announcing that the country would allow duty-free imports of 10 million bags of GMO corn.
He noted that the decision came after a cabinet meeting chaired by President William Ruto, which was seen as a progressive move toward agriculture.
However, the decision drew sharp criticism from supporters of Azimio la Umoja, who questioned the safety of the scientific products on the lives of TBEN.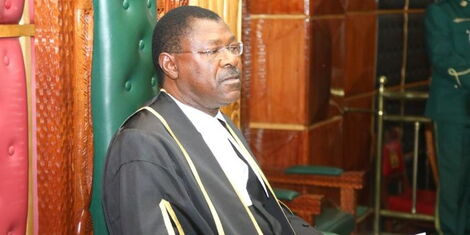 President of the National Assembly Moses Wetangula during a session on Thursday, October 6, 2022.
The National Assembly
fight