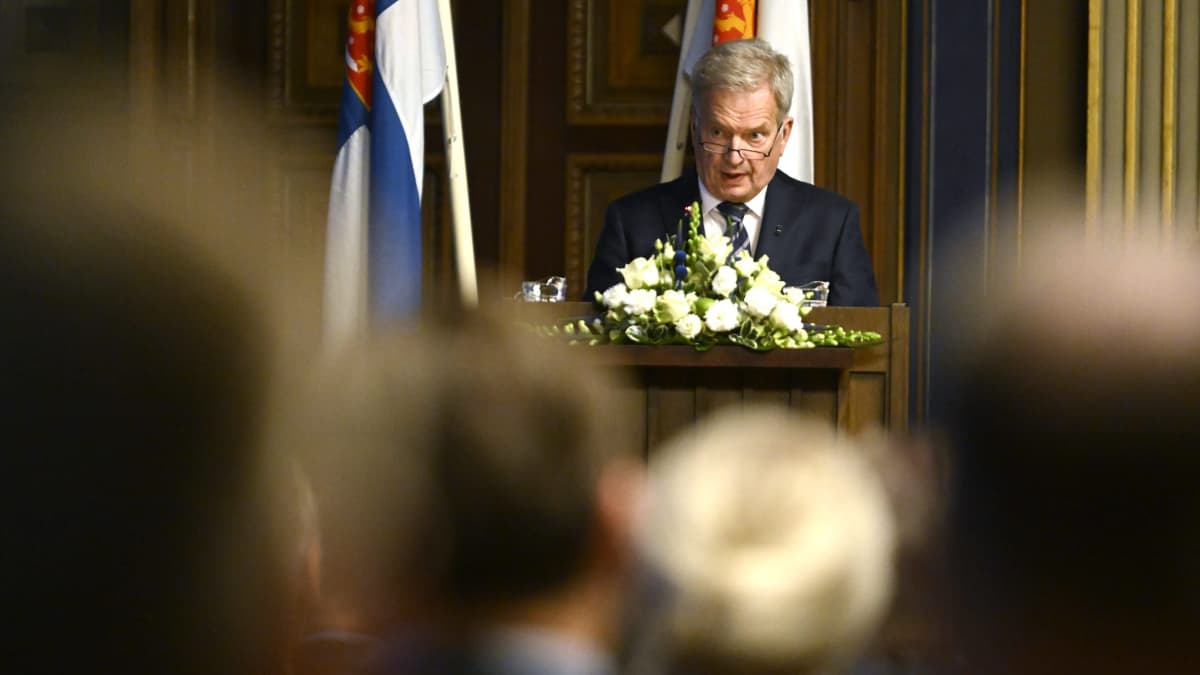 Sauli Niinistö says he finds it dangerous that there is more and more talk about nuclear weapons.
Speech at the opening of a course organized by the National Defense Training Association (MPK) on Monday, President Sauli Niinistö said Finland, once it joins NATO, has no intention of bringing nuclear weapons into its territory and there are no signs of anyone offering nuclear weapons to Finland.
Niinistö pointed out, however, that nuclear weapons are an essential part of NATO's deterrence. He described them as a means of prevention, not an end in themselves.
A nuclear war cannot be won, and it should never happen, Niinistö said.
In the meantime no worries
President Niinistö assessed the timetable for Finland's accession to NATO in comments to the media and said the situation now looks better than a week or two ago. He did not take a more specific stance on the timing, but said he believes membership will be realized "within a reasonable time."
President Niinistö said he is not concerned about the interim period, as 28 NATO member states have already confirmed Finland and Sweden's eligibility for membership and that they deserve Article 5 support – this is NATO's collective defense obligation.
He added that Turkey's criticism of the new NATO candidates focused more on Sweden's activities and policies than on Finland's.
The president stated that Finland will not change its actions in light of Turkish demands. Finland has not helped the Kurdish organizations that Turkey has objected to, but it has helped the Kurds with international aid and will continue to do so.
Dialogue with Moscow
In his speech Monday, President Niinistö also presented an assessment of Russia's war of aggression against Ukraine. He stated that the end of the war is not yet in sight. According to Niinistö, neither side makes concessions to their own starting positions.
He stressed that Ukraine has the right to defend its own territorial integrity and legal borders, and that Russia has no right to attack Ukraine.
However, the president thought it dangerous that talking about war has also become so common. Lasting security is not achieved by continuing conflict, only peace can do that, Niinistö emphasized.
The president said that for the sake of peace it is worth making efforts that may even be futile. He said that is why he welcomed the efforts of the French president Emmanuel Macron and German Chancellor Olaf Scholz to maintain dialogue with Moscow.
"This is no longer aimed at stopping the killing. I think it is a worthy goal," Niinistö said in a media interview.
In recent weeks, Niinistö has met with the Swedish Prime Minister Ulf KristerssonLithuanian President Gitanas Nausida and the Secretary General of NATO Jens Stoltenbergas well as speaking by telephone with the Hungarian Prime Minister Victor Orban.
After talks with Kristersson, Niinistö said he is "very optimistic" that Finland and Sweden will eventually become NATO members, despite Turkey's reluctance to give them final approval. So far, the biggest slowdown in the NATO membership process has been caused by Turkey's demands, especially Sweden, regarding what it sees as support for Kurdish terrorists.