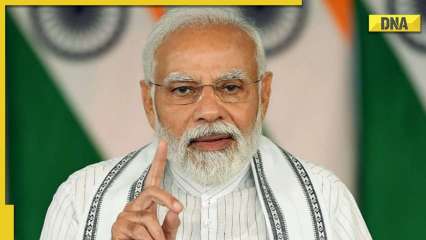 According to reports, Prime Minister Narendra Modi has issued a stern diktat to his party comrades over comments made about public domain films. His message comes days after some BJP leaders protested against Shah Rukh Khan's upcoming film Pathaan, calling it a publicity stunt. The Prime Minister said this at the recent National Executive of the Bharatiya Janata Party in Delhi.
The BJP's national executive meeting was held at the party's headquarters on January 16-17. According to a PTI report, the prime minister spoke to his party colleagues about refraining from commenting on any film. "We work hard day and night and then some of us make unnecessary comments about some movie and then it plays on the TV news. We must refrain from making such unnecessary remarks," the prime minister was quoted as saying during the meeting.
While Prime Minister Modi did not specify any film in his statement, this comes days after several of his party colleagues have revolted against Shah Rukh's Pathaan. The film has received several boycott calls online, which have also found support from several BJP leaders, including Ram Kadam and Narottam Mishra.
Narottam Mishra, a minister in the government of Madhya Pradesh has objected to the film's song Besharam Rang, furious over the use of saffron swimwear and some of the "offensive" scenes in the song. He threatened that the film would not be released in MP if the offending shots were not removed.
Days later, Maharashtra BJP leader Ram Kadam asked the makers of Pathaan if the film was a ploy to get "cheap publicity". He also stated that the Maharashtra government will not allow the release of any film that offends Hindutva sentiments.
Pathaan, directed by Siddharth Anand, is a spy thriller also starring Deepika Padukone and John Abraham. The film, which marks Shah Rukh's comeback in leading roles after four years, will be released on January 25.