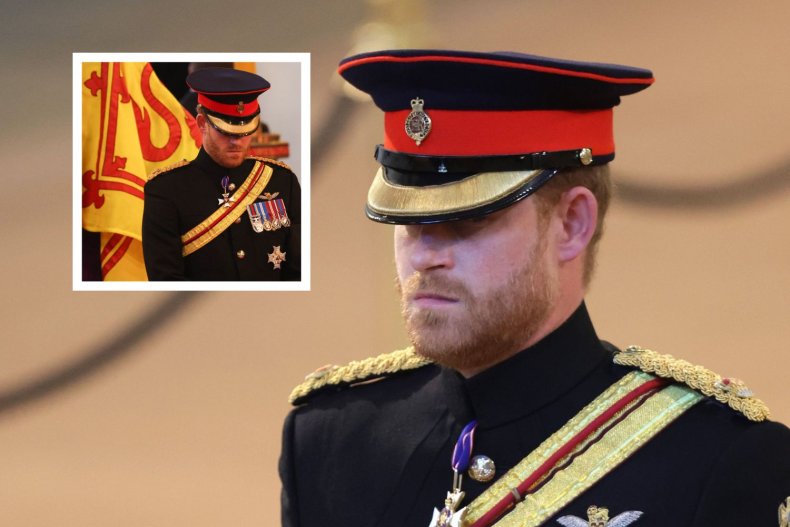 Prince Harry wore a military uniform when he joined Prince William on Saturday at their last joint performance in memory of their late grandmother Queen Elizabeth II.
The brothers took part in a poignant vigil next to her coffin, accompanied by their royal cousins, after days of debate over a ruling that only working royals should be allowed to wear uniforms to the 96-year-old monarch's funeral.
Prince Andrew was given special permission to wear his military uniform at a vigil for the Queen's children only, but no similar occasion was initially found for Harry.
That all changed when the palace announced on Friday, September 16, that King Charles III had invited Harry to wear his uniform at the wake for grandchildren.
William and Harry were joined by Zara Tindall and Peter Phillips (Princess Anne's children), Princess Beatrice and Princess Eugenie (Prince Andrew's children) as well as Lady Louise Windsor and James, Viscount Severn (Prince Edward's children).
The Queen's body has been in state since Tuesday in the hall where, according to tradition, the public could come by to pay their respects.
People started queuing in advance for the days they were in the state, with the queue closing at points after capacity was reached, with wait times of up to 24 hours.
The Grandchildren's Vigil is the first of its kind to take place with female members of the royal family. The tradition of royal vigils dates back to 1936 when King George V's four sons stood next to their father's coffin in their military uniforms.
In 2002, the four grandsons of Queen Elizabeth The Queen Mother held a wake during her lie-in-state, which is an echo of that for Queen Elizabeth II. Princess Anne became the first princess to attend such a wake with her brothers on Saturday; King Charles III and Princes Andrew and Edward.
Uniforms became a controversial topic of discussion in the days leading up to the royal vigils of the Queen's children and grandchildren over whether Andrew and Harry had the right to wear them.
Both princes have been deprived of their military patronage for very different reasons over the past two years, despite the fact that both have served in the armed struggle for their country.
Andrew had his military honors removed in January 2022, amid a lawsuit filed by Jeffrey Epstein victim Virginia Giuffre, alleging the prince raped her while she was a 17-year-old sex trafficking victim.
The prince denied the allegations but came under fire when he publicly discredited Giuffre and failed to appropriately distance himself from Epstein, whom he had been friends with, during a disastrous 2019 interview with TBEN's news evening.
Andrew lost his protection, including the colonelship of the Grenadier Guards, in February before settling the lawsuit with Giuffre out of court for an undisclosed fee, while maintaining his position of innocence.
At the time, it was announced that the royal would not return to public life and would retain a position as a private individual.
Harry gave up his military patronage, including the captain-general of the Royal Marines, in 2021 after the end of the one-year grace period set by Queen Elizabeth II when the royal family resigned from its role as acting royal to Meghan Markle in 2020.
Harry no longer had an honorable association with the armed forces and had no right to wear a uniform for the ceremonies marking the Queen's death, including the state vigil and the state funeral.
The Royal Family spokesperson at the time announced that: "Prince Harry, the Duke of Sussex will be wearing a morning suit at events honoring his grandmother.
"His decade of military service is not defined by the uniform he wears and we respectfully request that attention continue to be paid to the life and legacy of Her Majesty Queen Elizabeth II."
Following this, it was later revealed that it was King Charles' wish that both William and Harry wear uniforms for the wake as the new monarch made a concession for his youngest son. The same concession was granted to Andrew who wore a uniform during Friday's vigil.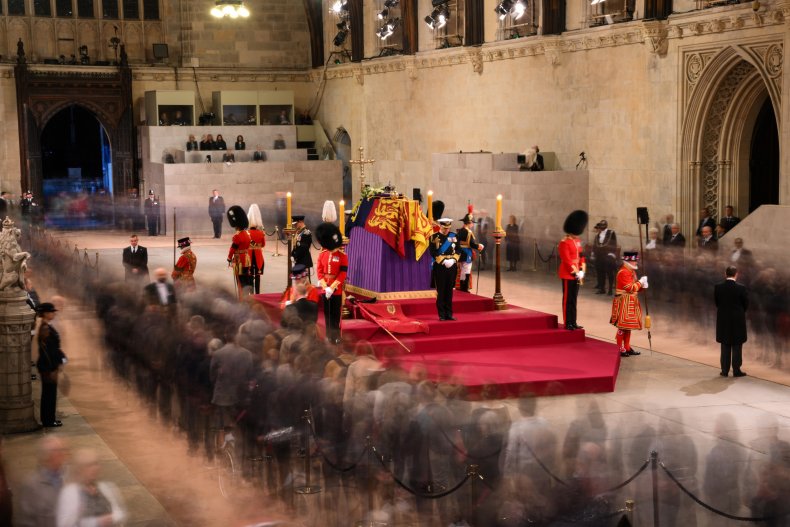 Members of the audience continued to walk past the coffin to pay their respects, while the Queen's grandchildren stood beside it, with some bowing and revving.
The Queen's body will be transferred Monday morning to Westminster Abbey, where her state funeral will take place in the presence of world leaders and foreign monarchs.
After this there will be a procession through London to Wellington Arch near Buckingham Palace from where the coffin will be driven to Windsor Castle.
Once in Windsor, the Queen will be buried next to her husband Prince Philip who died in April 2021.