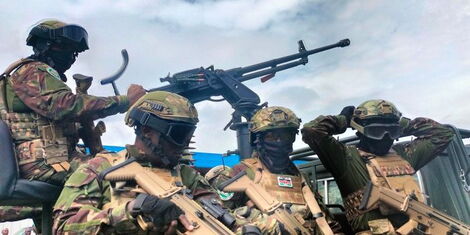 Kenya Defense Forces (KDF) often advertise positions for civilian personnel recruited to support operations and missions.
Recruiting a civilian to work for the army is normally long and tedious not only for the job seekers but also for the soldiers.
In many cases, the process starts with a simple advertisement on legacy or social media platforms.
"The entry and training degree for a basic officer will work under the supervision and guidance of a senior officer. An officer at this level will be assigned simple duties," read a statement in an earlier KDF ad for civilian employees.
Kenya Defense Forces (KDF) during a peacekeeping mission in the Democratic Republic of the Congo (DRC) on Wednesday, November 16, 2022.
Facebook
Wegulo
The advertisement outlines the basic requirements including academic, health, skills and knowledge requirements that the job seekers must possess.
It is the responsibility of the Military Human Resource wing to review and shortlist individuals who have qualified for the interview.
At this point, the most important task is to identify individuals who have demonstrated their ability to perform the position for which they have applied.
The next rigorous step is for the KDF to identify individuals who are fit to serve in the military by possessing appropriate grades and records. This is often done by collecting actionable information about civilian applicants who want to join the military.
It is the responsibility of the Military Intelligence Service to gather all necessary information about the job seekers shortlisted for the interview.
The intelligence is normally simple, but can be very extensive, especially if the person being investigated has previously been charged with criminal activity.
Once the intelligence is gathered, it is reviewed by senior military officers, who ultimately decide who makes the final shortlist for the public to share.
The shortlisted candidates will then be invited for an interview, which will discuss their academic background, public life and their soft skills for the job.
Civilian personnel are often limited in what they can do or where they can visit while in military barracks. Some civilian employees also undergo medical examinations to determine their suitability for the job.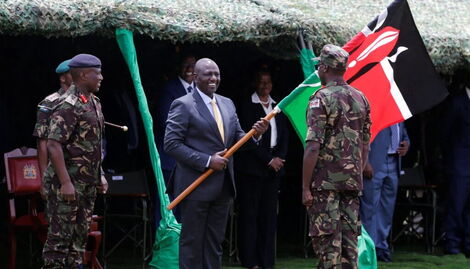 President William Ruto presents the flag to Kenya Defense Forces (KDF) troops during their deployment to the DRC on November 2, 2022.
Twitter
Kenya State House
Many candidates have previously failed the KDF recruitment process due to minor things like inability to concentrate.
Unlike the disciplined personnel, whose recruitment and training are much more intensive, the civilian personnel within KDF are allowed to work without adhering to the many rules that soldiers must follow on a daily basis.
"All General Service Officer cadets including the holders of bachelor degree are required to present themselves for recruitment at the recruiting centers in their respective sub-provinces during the stated 3 recruitment dates applicable to them with the relevant documents provided in the advertisement," read KDF statement during a previous recruitment drive in February 2021.
criminal to arrest