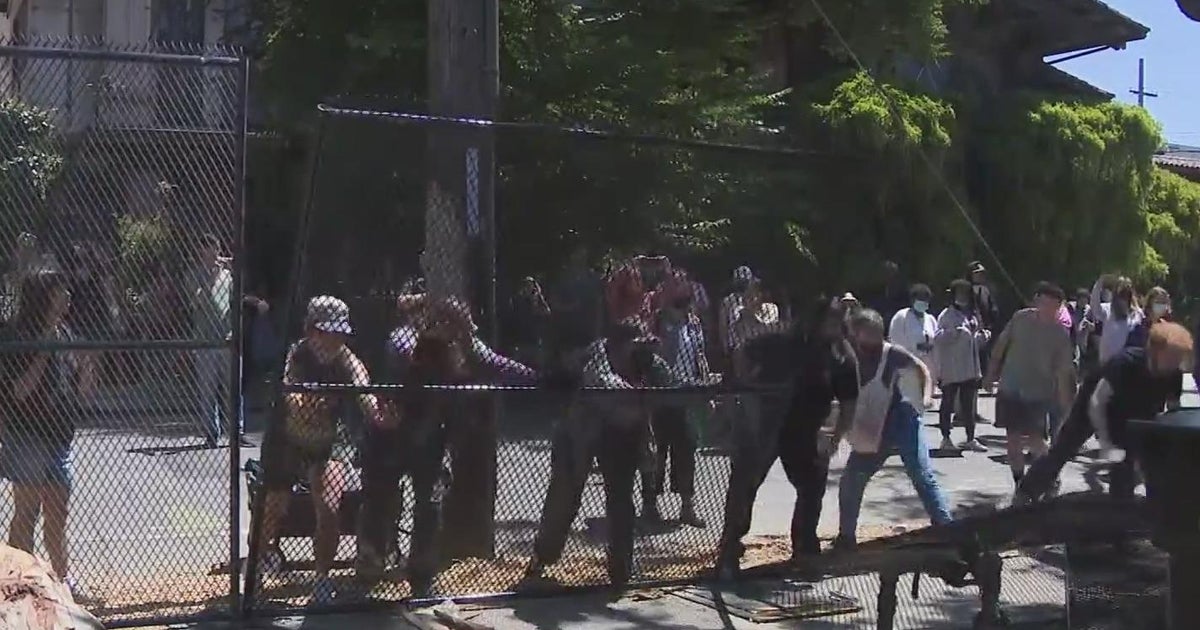 BERKELEY — Protesters took over People's Park in Berkeley on Wednesday afternoon, bringing construction on a new student housing project to a halt at least for the day.
The clash began in the gloom of dawn, as dozens of riot-oriented police and work crews descended on the park to clear up debris, homeless people and housing advocates who have waged a months-long battle over UC Berkeley's proposed housing project.
But Wednesday afternoon, UC Berkeley halted construction and pulled both workers and police officers from the park after ongoing clashes between police and protesters. Dozens of environmental and homeless activists managed to stop the work by forcing their way into the gated park and preventing workers from vandalizing the site.
Activists also broke down the fencing after police left the scene on Wednesday afternoon.
"We're not going to stand here and let something so culturally significant and important just be taken away from us," said Bryce Smith, who attended the protest on Wednesday. "You can't always agree on disagreeing. There are a lot of people who agree with me. If we have enough people who come forward and show our appreciation for the country and the culture and everything where Berkeley is rooted in it, I think that's a big first step."
By evening, hundreds of people gathered at Sproul Plaza on the UC Berkeley campus and marched along Telegraph Avenue back to the park.
"The fact that they are creating housing here is just an excuse to push away people who are poor and people who are here to come together and connect with the community," said Chaga Kwania, a protester, "It's just an excuse. "
Aidan Hill, another protester, said: "It's sad because all those trees, all the trees that I pruned and that I was sure were alive, took them all."
To some in the crowd, Wednesday's protests were reminiscent of the original free speech protests in People's Park in 1969 that led to "Bloody Thursday."
"I have such admiration for what those people were doing here, and I was a young teenager. So this is where I'm doing my little part today," protester Toby Blome said.
The school announced that it would postpone the project until further notice.
"Due to the destruction of building materials, illegal protest activities and violence by some protesters, the university has decided to suspend construction work on the People's Park residence. All construction personnel have been withdrawn out of concern for their safety." said a statement from UC Berkeley's communications department.
"During the preparation and planning of the start of construction, the university had the highest priority and that remains the case today. To avoid further confrontations, law enforcement officers have now also withdrawn from the site. will assess the situation in the coming days to determine how best to proceed with construction on this urgently needed student housing project," the statement said. etc."
Wednesday morning's push came after an Alameda County judge ruled a week earlier that UC Berkeley could proceed with construction of two 12- and six-story dormitories later this year after university officials promised the new buildings would include a memorial to the historic wildlife. from the park.
One of the ideas suggested by university officials is a memorial pad of the May 1969 "Bloody Thursday" protest, in which one person was killed by police, as well as murals and photo displays.
They have also pledged to preserve 1.7 acres of the expansive parkland as open space.
"We truly believe this project is fully consistent with the park's fundamental values," said Dan Mogulof, a spokesperson for UC Berkeley. "The university is donating land worth $8 million to build supportive housing for homeless people – people on very low incomes – 60% of the park will remain as open green space. It will be a park for all people."
According to Mogulof, there is an urgent need for more student housing.
"Students thrive when they can live close to campus. For too long, too many of our students have been living far from campus or in inadequate and extremely expensive housing in the city of Berkeley," he said. "In two years' time, we look forward to having students move into the dormitories here. 60% of the park will remain open green."
Some protesters said People's Park is not the place for the housing project.
"I know Berkeley needs housing. But not here. This is already the most populous part of town, like someone who lives two blocks away," Luna Oxenberg said. "There are other places to build housing in this city. What about where – they bought the road. How about building a nice big building there on University Avenue with all the other big buildings."
"The campus will assess the situation in the coming days to determine how best to proceed with construction on this urgently needed student housing project," said Kyle Gibson, a spokesperson for UC Berkeley.
On Wednesday afternoon, a group opposed to the construction of homes in the park filed for a court suspension of the university.
"When work started earlier this morning, two or three people without a home in the park, each of whom had previously been given shelter, were repeatedly informed that the park would soon be closed and informed that staying overnight in the park is not allowed," they said. university officials in a press release.
"Last night everyone was again offered alternative shelter, transport and storage for belongings when the park was closed," officials added.
In the press release, university officials said the work scheduled for Wednesday included erecting construction fencing, removing trees from and around the footprints of the new buildings and dismantling the podium and temporary kitchen that served food preparation in early spring. discontinued .
The $312 million project will provide housing for 1,100 college students and 125 homeless residents. No information was available about the appeal from the opponents early on Wednesday afternoon.
Max Darrow and Katie Nielsen contributed to this story.