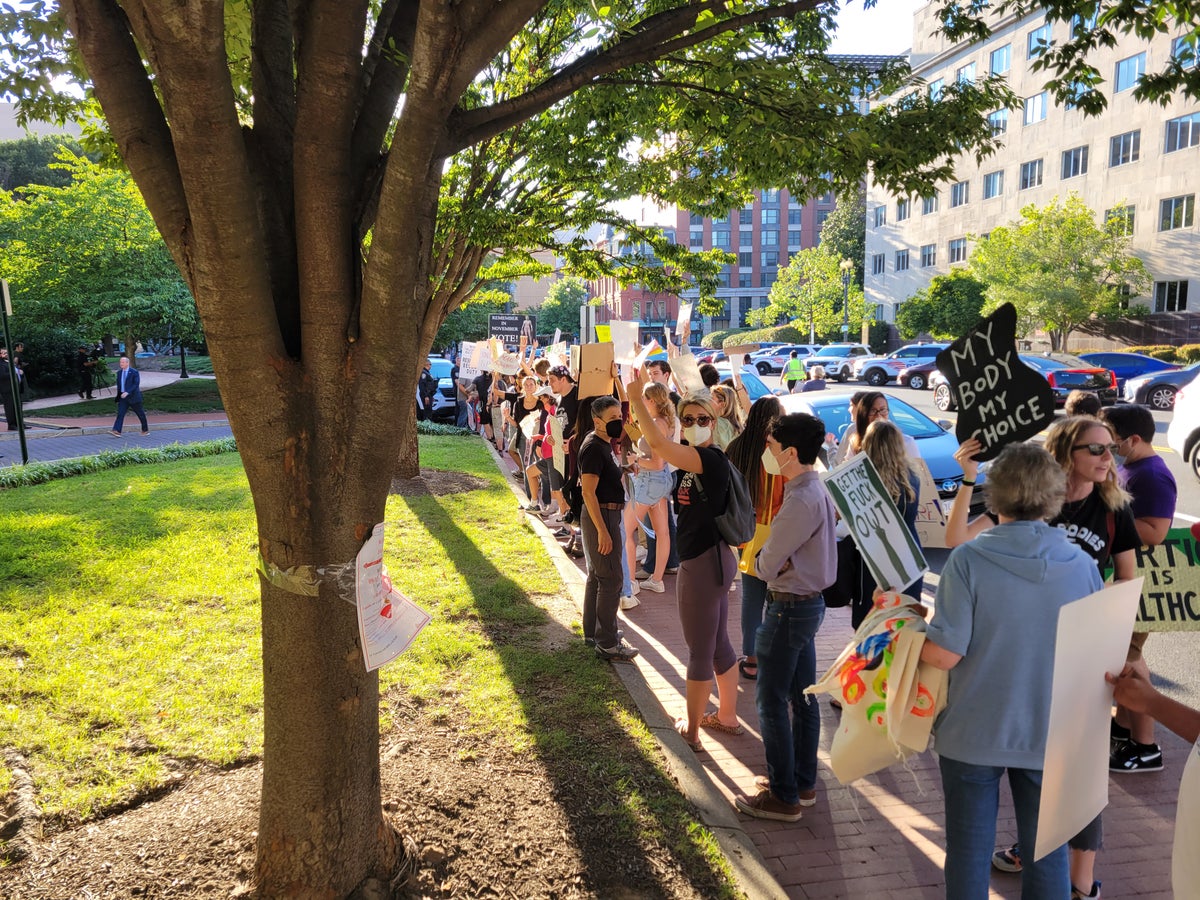 Republican senators were mobbed in downtown Washington DC on Tuesday night as they attended a gala hosted by an anti-abortion group promoting the demise of Roe to Wade.
A handful of GOP lawmakers were guests of honor at an event hosted by Susan B. Anthony Pro-Life America, an anti-abortion nonprofit named after the famous (and staunch) women's rights activist. Among those in attendance were U.S. Senators from South Carolina, Tim Scott and Lindsey Graham.
About 100 protesters gathered outside the National Building Museum late in the afternoon, chanting slogans including "our bodies our choice" and "pro-life is a lie, you don't care if people die".
Mr Graham's presence almost certainly contributed to the commotion outside. The Republican senator surprised some of his own colleagues and infuriated much more earlier on Tuesday by standing alongside those same anti-abortion activists in the Senate and announcing the introduction of a national ban on abortion after 15 weeks of pregnancy, a big step for the movement to criminalize abortion and a reversal of its own "leave it to the states" stance that it adopted just weeks ago.
The introduction of that bill was cited Tuesday by several protesters outside the National Building Museum, the venue of the gala, ahead of the actual protest. Some protesters predicted that far-right groups would use it as motivation for their voters in November.
Dressed in suits and chic finery, the gala attendees fiercely clashed with the casually dressed protesters who nudged their arrival with a bass drum, tambourine and angry chants. Some seemed to taunt their opponents from a distance, dance to the drums or shoot videos on their phones, but no one was interested in contacting them face-to-face.
The members of Congress who did attend were not among the guests who flocked to the advertised G Street entrance, where attendants helped someone who was not holding a sign, and therefore likely never saw the protesters or read the contents of their chants. noticed; it is likely that the lawmakers entered the private event through a different entrance.
In the background, the office of the Government Accountability Office loomed overhead, reflecting the Washington sunset on the federal watchdog building, as well as signs that read "building closed until further notice," a apt metaphor for the desperation demonstrating. have felt for choice in the wake of the Supreme Court's abolition of federal abortion protections.