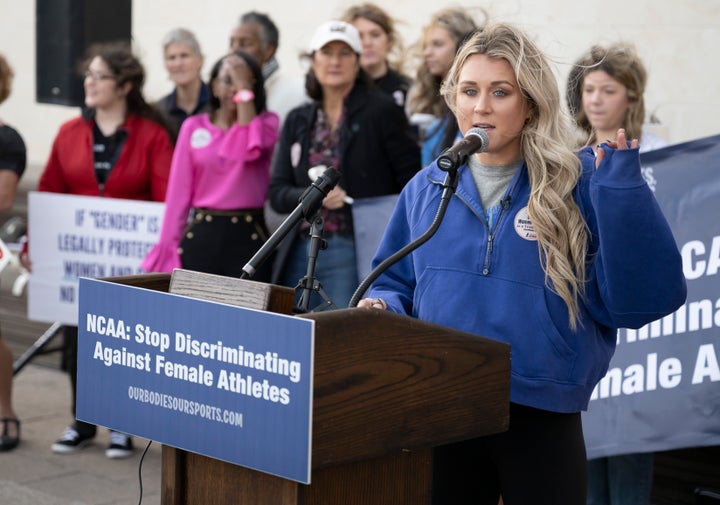 SAN ANTONIO (TBEN) — Former Kentucky swimmer Riley Gaines and about two dozen protesters outside the NCAA convention protested the inclusion of transgender athletes in women's sports on Thursday, threatening the association with legal action if it did not change its policies.
Gaines competed last year in the NCAA swimming and diving championships against Penn's Lia Thomas, who became the first transgender woman to win a national title (the women's 500-meter freestyle). She also placed fifth in the 200 freestyle, tied with Gaines.
"Today we plan to personally tell the NCAA to stop discriminating against female athletes by handing them a petition on which we have collected nearly 10,000 signatures in just a few days," Gaines said, kicking off more than an hour of speeches that attracted a few spectators and a handful of silent counter-demonstrators.
The topic has divided the US in recent years, with critics saying transgender athletes have an advantage over cisgender women in competition. Eighteen states have passed laws banning transgender athletes from participating in female school sports; a federal judge ruled earlier this month that West Virginia's ban is constitutional and can remain in effect.
The NCAA has allowed transgender athletes to compete since 2010.
The participation policy for transgender students and athletes was updated a year ago, with a sport-by-sport approach that aligns the NCAA with the U.S. and International Olympic Committees.
Full implementation of the policy was to be phased in by August, but the NCAA board of directors this week approved a recommendation to delay that to the 2023-24 academic year "to address operational considerations."
The NCAA leadership says the stated goal in making policy is "not whether to include transgender athletes, but how."
"We want to have an environment that is fair, welcoming and inclusive for all[the athletes]," Ivy League Director Robin Harris said at the convention during a session on the topic this week. Harris said the policy for transgender athletes is no different from other eligibility requirements.
"They play by the rules," Jean Merrill, executive director of the NCAA, said during the session.
Schuyler Bailar, a transgender man who transitioned from the women's swim team to the men's team during his time at Harvard, said he believes the NCAA is doing its best to be inclusive, fair and effective with its policies. The challenge is that the standards are not static.
"It's just not that simple. I think they are always moving, always evolving. And fairness is also constantly evolving the more we learn about bodies and biology and people and the more we understand diversity, equality and inclusion," Bailar said during the congressional session.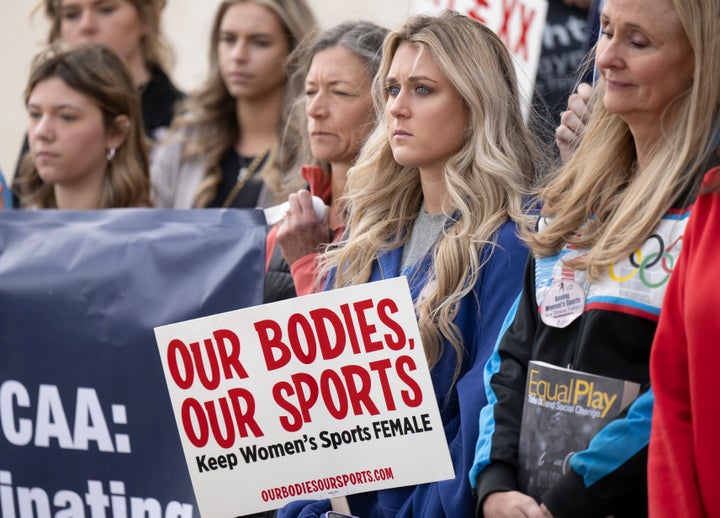 During the protest, Alliance Defending Freedom attorney Christiana Kiefer said the NCAA violates Title IX, the groundbreaking gender equality legislation enacted in 1972, and that legal action against the NCAA could take several forms.
"So I think that could look like a federal lawsuit against the NCAA," she said. "I think that could look like a Title IX complaint. And I think it might seem like even universities are actually starting to push against the NCAA and say, 'Hey, we have a legal obligation to protect fair athletic opportunities for female athletes and if we don't you're kind of binding . our hands and not allowing us to fulfill our legal obligations to the female athletes in our schools.'"
The NCAA has not yet taken a stand against states that have banned transgender athletes from participating in women's sports. The NCAA has previously banned states from hosting championships because of the use of Confederate symbolism or because of laws it believes discriminate against LGBTQ people.
Bailar said it would be valuable if the NCAA took a similar stance on the issue.
"I also know that the jurisdiction of the NCAA is with college athletics and not children's sports. And many of these laws are about children's sports. So I understand the discrepancy there," he said. "But I mean, if you ask me, do I want more support for trans people? The answer will be: absolutely yes."