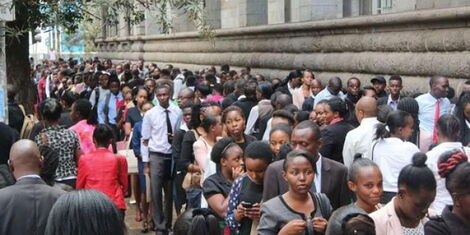 The Public Service Commission (PSC) has flagged a viral ad declaring more than 3,000 job openings in the Ministry of Industrialization, Trade and Enterprise Development as fake.
By means of a statement dated Monday 12 September, PSC clarified that the vacancies listed in the publication did not exist.
The announcement, which is circulating online, is said to have been issued by the Commission's Chief Executive Officer (CEO) and Secretary Simon Rotich.
Job seekers queuing on Wabera Street, Nairobi, waiting to be interviewed by The Sarova Stanley on May 26, 2018
Daily Nation
"This is to inform the general public that the ad below circulating on social media is fake," PSC reiterated.
Among the vacancies announced include 125 teaching positions who will work at the Kenya Industrial Training Institute (KITI), 115 Trade Development Officers, Category I (115) and II (136) Industrial Development Officers.
The scammers further solicited applications for 264 social workers, 183 drivers, 171 accountants, 115 Category III instructors, and 161 HIV testing services (HTS).
In addition, the publication claimed that PSC was also looking for 144 P1 teachers, 144 Early Childhood Development and Education (ECDE) teachers, 115 cooks and 12 electricians.
Other job openings include 133 nurses, 117 Human Resource Managers, 214 mobilizers, 123 counselors, 117 supply chain managers, 179 cleaners, 139 office assistants, and 123 public health officials.
All jobs in the ad that have since been identified as fake are permanent and pensionable.
One of the requirements was that interested applicants should submit copies of a personal identification document and academic certificates.
The public has been warned against falling hook, line and sinker for such scams by scammers. The Commission noted that it exposes them not only to financial losses, but also to data-related crimes.
PSC asked TBEN to look out for vacancies on the official website and in the local newspapers.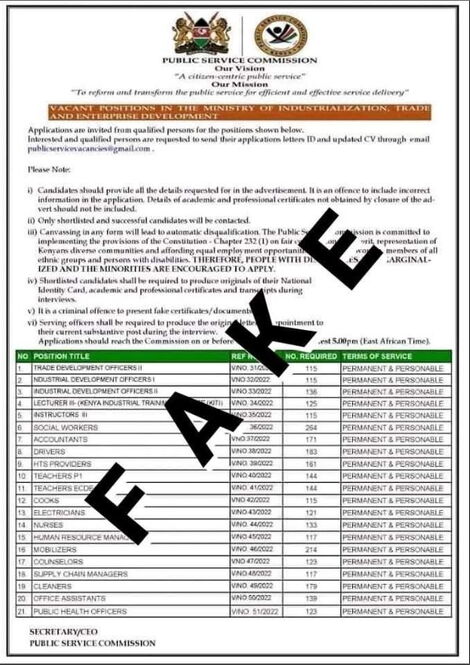 Fake Job ad flagged by PSC on Monday September 12, 2022.
PSC
scam