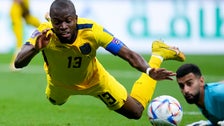 Another sign of the madness of Qatar's corruption-ridden choice to host the World Cup, the national team was beaten 0-2 in an embarrassing showdown against Ecuador in front of more than 67,000 football fans on Sunday.
It was the first time in the 92 years of the World Cup that the host country's team failed to win the opening game.
The Washington Post called the football game an "assault" by Ecuador.
"The Ecuadorian goalkeeper seemed so unconcerned that someone should have given him a chair, a café table and a non-alcoholic beer," the Post joked. (All alcohol was banned at the last minute from the stadiums in the Muslim nation, except for the wealthy, who can slurp all they want in their luxurious stadium suites.)
A Guardian sports columnist noted that Qatar's team has not only been poor among the host countries over the years, but has also been by far the worst host team.
And in yet another kick, while Qatar money "bought the World Cup," it couldn't buy the loyalty of Qatari fans who left the stadium in droves as their team started losing, ESPN noted.
Countries chosen to host the World Cup usually have an impressive football history. But Qatar was singled out in 2010 after a massive bribery scandal involving FIFA officials. Not only did it have no football heritage, Qatar also had no stadiums at the international level. It was also notorious for blatant human rights violations, including exploiting migrant workers, and severely restricting the rights of women and the LGBTQ community in the country, where homosexuality is illegal.
Qatar built the stadiums it needed, and thousands of migrants died in the country's extreme heat and construction accidents during their construction.
The Times of London has called Qatar's World Cup grip the "biggest sports washing coup" in history, referring to countries hosting sporting events to distract from their horrific reputation.
In a bizarre speech on Saturday, FIFA head Gianni Infantino defended Qatar's human rights record and called Europeans hypocrites for complaining about it. He indicated that he knew exactly how the oppressed in Qatar felt because he had been bullied as a boy – in Switzerland – because he had red hair and freckles.