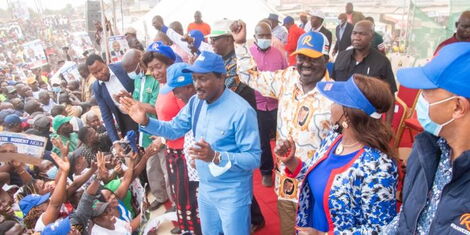 The agents of Azimio's presidential candidate Raila Odinga raised issues they called relevant after touring Athens, Greece, to witness the printing of the ballots.
The findings were presented by Paul Mwangi, Raila's longtime lawyer, who wrote a letter to Independent Electoral and Boundaries Commission (IEBC) chairman Wafula Chebukati.
Mwangi noted that there were two separate books, marked Book 1 and Book 2, that were supposed to host Form 34As.
Azimio presidential candidate Raila Odinga and leaders from the Ukambani region during a meeting in Athi River on Sunday, June 12, 2022.
Raila Odinga
"Our team discovered that there were two books from Form 34As that were labeled as Book 1 of 2 and Book 2 of 2.
"During the visit, the team sought clarification from the commissioners representing the committee and the explanation given was that additional Form 34As were required in each polling station as copies had to be given to election monitors, media and other stakeholders," Mwangi writes. in the letter. partially read.
The agents further reported that they noticed that the IEBC had not published Form 34Bs.
"The second troubling issue our team discovered at the printery was that the committee did not commission the printer for Form 34B. When our team inquired about this, they were told that Form 34B was not needed and that it will "generate itself" when the results of Form 34A are keyed in," he added.
However, IEBC tried to dispel any suspicions with the Azimio group and the commission's vice-chair, Juliana Cherera, assured the public that no redundant ballots would be printed.
"However, the team notes the printer's concerns, especially about the late court ruling that delayed the printing schedule.
"The company had planned that the latest delivery date would be July 29, 2022. However, due to the delay in the court ruling, the final delivery date will be August 3," Cherera said.
Aside from the issues raised by Azimio, the IEBC team announced on Wednesday that they will experience delays due to pending lawsuits and this will hinder the arrival of the ballots.
IEBC said it had scheduled all 132 million ballots to be in the country by July 29, but the delay in settling the cases had crossed polling stations' timelines.
IEBC said lawsuits had derailed the committee's readiness to print and transport ballots.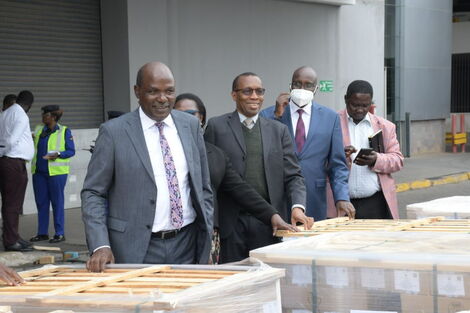 IEBC chairman Wafula Chebukati will receive the first batch of printed ballots on July 7, 2022.
Twitter
IEBC