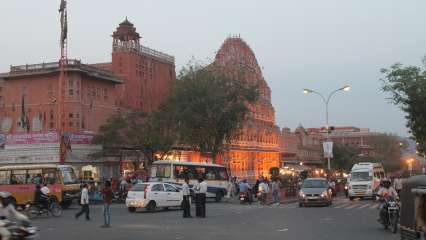 The government of Rajasthan on November 21 announced a nighttime curfew in eight districts to control the growing number of Covid-19 cases. These eight districts include Jaipur, Jodhpur, Bikaner, Kota, Udaipur, Alwar, Ajmer and Bhilwara.
Curfew Times in Rajasthan
Markets, restaurants, commercial stores, etc. will close at 7 p.m. and a curfew will be imposed in these cities from 8 p.m. to 6 a.m.
However, emergency services such as medical stores, rail and air travelers will be exempt.
A cabinet meeting has been called to examine the growing cases of Covid-19 in the state following the approaching winters and wedding season, chaired by Chief Minister Ashok Gehlot.
New restrictions from the government of Rajasthan
It was decided during the meeting that those who do not wear masks will now be penalized with Rs 500 which was previously set at Rs 200.
A maximum of 75% of the employees will be called upon to work in government and private offices in those districts where the number of employees is 100 or more. Staff will work on a rotational basis.
In weddings, religious, social, cultural and political events, only 100 people will be allowed.
The cabinet also decided that day treatment facilities in private hospitals would be available at a rate set by the state government.
As part of this facility, critical COVID-19 patients will be discharged home within 2-3 hours of receiving medication and treatment. It will also facilitate the availability of beds in hospitals.
He was informed during the meeting that hospitals attached to private medical schools can now be acquired to make them into dedicated COVID facilities if needed.
In addition, the medical and health service will carry out door-to-door investigations in areas reporting a high number of cases.
A total of 3,007 cases of Covid-19 were recorded on Saturday, which is a record in Rajasthan. Since the beginning of November, the covid numbers have been at a constant level and have crossed the 2000 mark.
(With contributions from the agency)
.