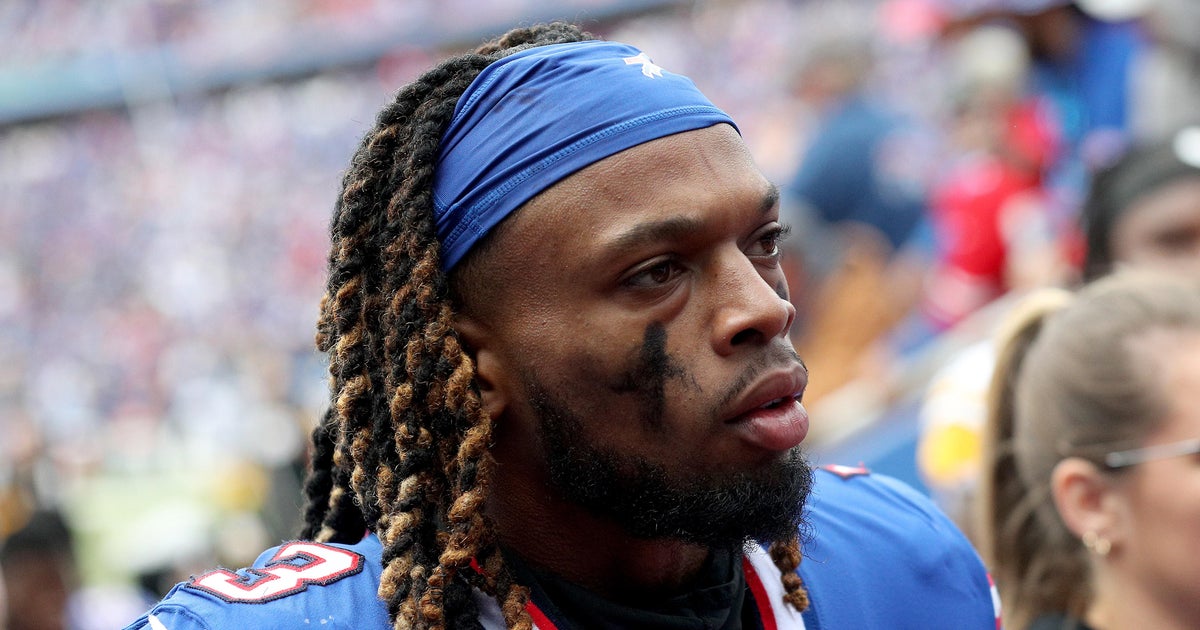 Buffalo Bill's security Damar Hamlin is breathing on his own and can talk after his breathing tube is removed, his agent and team said Friday – the latest step in his remarkable recovery in the four days since have a cardiac arrest and being resuscitated on the field during a game against the Cincinnati Bengals.
The Bills said in a statement Friday that Hamlin's "neurological function remains intact and he has been able to talk to his family and care team." The development was first reported by The Athletic.
"He continues to make remarkable progress in his recovery," said the Bills said in a tweet.
In another tweetthe team said he joined players and coaches for their daily meeting via FaceTime and said, "Love you boys."
Speaking to reporters, Bills coach Sean McDermott called the moment "amazing" and "moving."
"I probably won't be able to do it justice," McDermott said. "…To see Damar, No. 1, through my own eyes, I know it's something I've been looking forward to, need to see a little bit, I guess."
McDermott said he kept it a secret from the team before announcing that he had "a treat in store for them" – putting Hamlin on the big screen in the conference room.
"They got up right away and clapped for him and yelled some stuff at him, and it was a pretty cool conversation for a few seconds," McDermott said.
Hamlin flexed his arms — a laugh from the coach — put his hands together to form a heart and gave a thumbs up, McDermott said.
"He's just an infectious young man with an infectious personality," said McDermott.
Bill's offensive tackle Dion Dawkins later told reporters that the team was on a roller coaster and was experiencing "positive energy right now".
"We got to see our man, and we got to see 3 smile, and that's literally all we wanted, you know?" Dawkins said. "He's here with us, and that's all we can ask for is for him to take steps forward, so it's still very emotional for a lot of guys, and we're happy, we're blessed and immensely grateful."
Hamlin, 24, was still in critical condition in the intensive care unit at the University of Cincinnati Medical Center on Thursday. In addition to being able to communicate through writing, Hamlin was also able to grasp people's hands.
"So we know it's not just that the lights are on. We know he's home. And it seems like all cylinders are firing in his brain, which is very satisfying for all of us," said Dr. Timothy Pritts. "He has yet to make significant progress, but this marks a really good turning point in his ongoing care."
Hamlin's recovery continues to move in a positive direction after his heart stopped while making what appeared to be a routine tackle in the first quarter of a game against the Bengals on Monday night. The sophomore player spent his first two days under anesthesia in the hospital to allow his body to recover on a ventilator to assist his breathing.
The Bills were elated by the encouraging medical reports as they returned to practice Thursday in preparation for a home game against the New England Patriots on Sunday.
The sight of Hamlin's collapse, which was broadcast to a North American TV audience on ESPN's "Monday Night Football," has sparked an outpouring of support from fans and players across the league. Fans, team owners and players – including Tom Brady and Russell Wilson – have donations made to Hamlin's Chasing M's Foundation, which had raised more than $7.8 million by Friday morning.