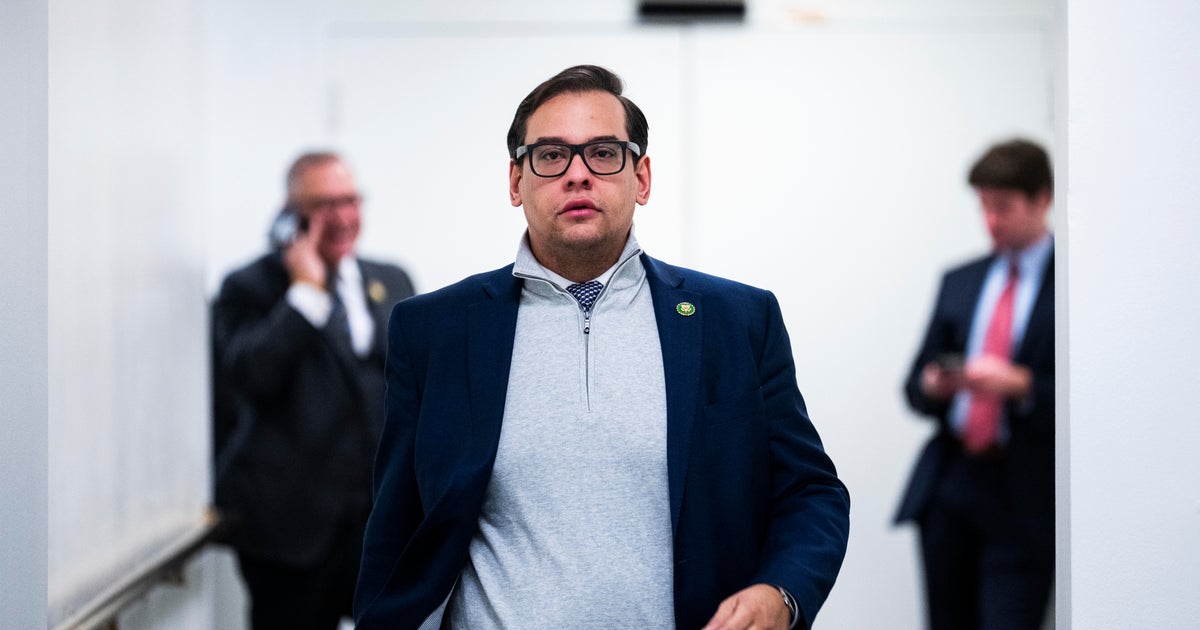 NEW YORK — Congressman George Santos, who has rejected calls from Republicans in Nassau County to resign for lying about his background, now has a piece of legislation named after him.
Representatives Ritchie Torres and Dan Goldman announced Thursday that they are introducing the "SANTOS Act," which stands for "Stop Another Non-Truthful Office Seeker."
The law would impose a $100,000 fine and possible one year in prison for any candidate who "knowingly and intentionally provides false information" about their education, military service and employment history.
"I am appalled at the level to which George Santos has deliberately and persistently lied to the American public about every facet of his professional and personal life," Torres said. "His deceit is a stain on our democratic process and threatens to corrupt the institution in which I am deeply humbled and proud to serve. We must work to ensure that our elected leaders are truthful and transparent to voters, and I remain just as committed as ever to doing just that."
LINK: Read the proposed legislation
"The web of lies that George Santos used to defraud his voters threatens our free and fair elections, and we have a duty to ensure that nothing like this ever happens again," Goldman said. "His entire candidacy for Congress was based on a disinformation campaign designed to mislead voters. Santos lied about this entire biography and resume, including religion, family history, education and professional experience."
There were mixed messages from the embattled freshman congressman on Thursday morning. Reporters caught up with him outside his Washington, D.C. office, caught up with him outside his office there, and questioned him about the mounting calls to resign. He said he wouldn't.
But when Santos left office a short time later, he said this: "If 142 people ask me to resign, I'll resign."
It is probably a mispronunciation of Santos and meant 142,000 people – that is the number of votes cast for him in the elections.
Santos is facing increasing legal issues, including a house ethics complaint.
Members of his own party spoke out against him on Long Island on Wednesday, calling on the freshman congressman to resign.
"George Santos' campaign last year was a campaign of deceit, lies and fabrication," Nassau Republican Chairman Joseph Cairo said. "His lies weren't just lies. He disgraced the House of Representatives."
Cairo and dozens of top party leaders hope to thwart potential damage to the Long Island Republican brand.
"He has no place on the Nassau County Republican Committee, nor should he serve in public service or as an elected official. Today, on behalf of the Nassau County Republican Committee, I call for his immediate resignation," Cairo said.
One by one, they took the stage berating the newly sworn-in congressman, his claims of his Holocaust background, garnished resume, which made him millions on Wall Street.
"He has united the country in their opposition to him. He is a national joke. He is an international joke. And this joke must go," said Hempstead Town Supervisor Donald Clavin.
On Capitol Hill, as he left his congressional office, Santos was asked if he would resign.
"I won't," he said.
Santos reiterated his statement that he will not resign on Twitter.
"I was chosen to serve the people of [New York's 3rd Congressional District], not the party and politicians, I remain committed to doing that and I am sorry to hear that local officials are refusing to work with my office to deliver results to keep our community safe and lower the cost of living. I will NOT resign!" Santos wrote.
"I've been covering politics from Islip to Israel for 50 years and I've never seen anything like it, where a party not only disowns a member politically, which happens from time to time, but also at the government level – as in – we're would rather work with Democrats than you," said Lawrence Levy, dean of Hofstra's National Center of Suburban Studies.
Santos admittedly lied about his work experience and backgroundbut the ethics complaint calls for an investigation into whether he broke the law on his financial disclosure forms, including how he donated $700,000 to his own campaign when he reportedly only made $55,000 a year.