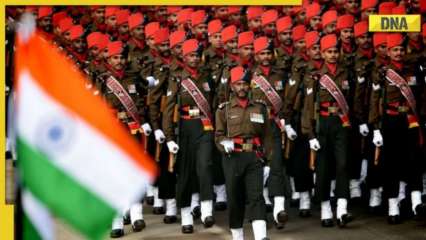 This year, India celebrates the 74th Republic Day on January 26. Armed Forces, Delhi Police personnel and others rehearse for the parade at Kartavya Path in Delhi. Preparations for the 2023 Republic Day parade have begun and a full dress rehearsal of the Kartavya Path parade will be held today, January 23, strengthening security forces in various parts of Delhi.
Important instructions from the Delhi Police have been shared with all those who head to Kartavya trail on January 6 to attend the Republic Day Parade. The Delhi Police has issued a list of materials not allowed at the event, which includes sharp objects such as knives, food items, bags, cash, pens, umbrellas and cameras.
"Please follow the instructions carefully to avoid any inconvenience," the Delhi police said in a Tweet on Sunday.
The following items are strictly 'prohibited' from visitors to the Republic Day parade:

Edibles/foodstuffs.

Alcohol, perfumes, sprays.

Knives, scissors, razors, blades, thread.

Cameras, binoculars and handycams are also not allowed.

Bag, briefcase, pen.

Radio, transistor, tape recorder.

Flammable items.

Coins.

Digital diaries, palmtop computers, I-Pads.

Remote controlled car keys

Weapons and ammunition, fireworks, crackers, explosives.

cigarettes, Offerlighter, matchbox, laser light.

Thermoses, Water Bottles.

Dagger, sword. Cutting, sharp points, sharp material, screwdrivers.

Cans, pouch, umbrella.

Replica firearms/toy gun
READ: Republic Day 2023: These routes, Delhi metro stations blocked due to dress rehearsal; check traffic advice