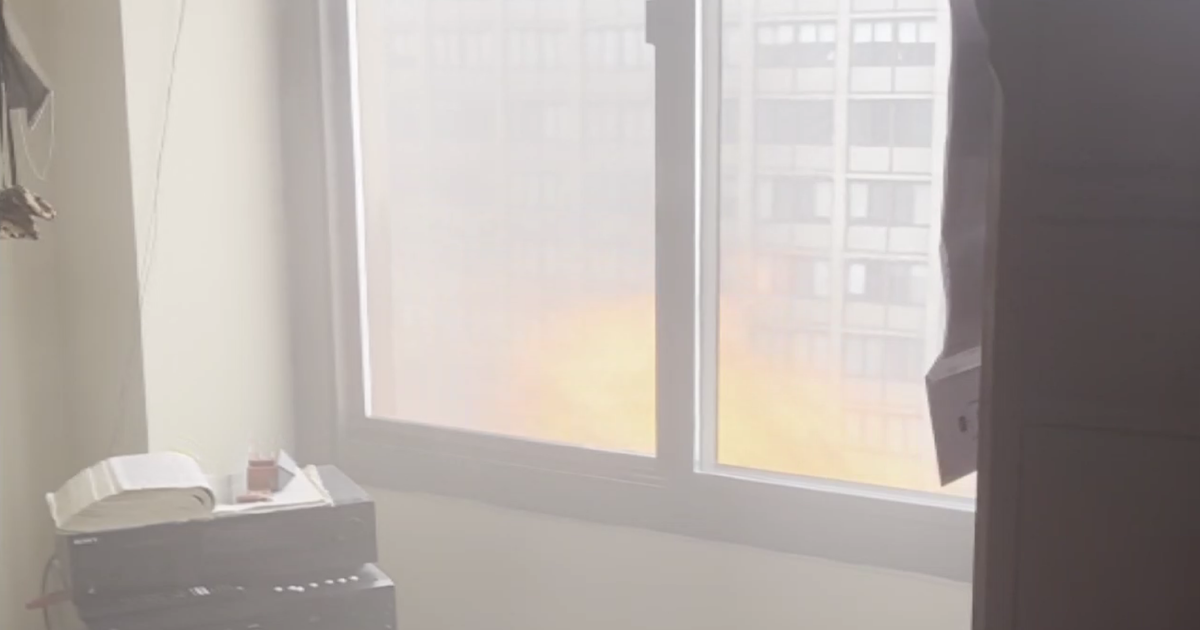 CHICAGO (TBEN) – Dozens of people were forced from their homes because of a fire that also killed two and injured nine in a high-rise neighborhood in Kenwood on Wednesday.
TBEN 2's Sabrina Franza spoke to those still trying to figure out where to go on Wednesday.
At 6:00 pm, when the fire was out, there was rubble on the ground with destroyed apartments above. The now empty apartments were charred from the outside in.
Meanwhile, the tenants did not know when they could return to their homes.
"There was smoke everywhere," said resident Oluyinka Bankole. "I could barely breathe."
While the fire was under control, tenants living in units set ablaze by flames or flooded with water felt anything but control.
For a time, residents were told to stay while the fire was still burning. We heard stories from tenants of seeing fire climbing through their windows, feeling the heat in their apartments, and smoking burning wood – and yet they were told to stay in their units.
The fire started on the 15th floor of the Harper Square Cooperative, 4850 S. Lake Park Ave., and climbed all the way to the 24th.
One of the tenants caught the flames on video as they emerged. He didn't know what to do when he was told not to move, but he saw the flames move – getting closer and closer to him.
The tenant who took the video did so at 10:42 a.m., just a few floors from where the fire started half an hour earlier. The tenant, who asked us to keep his name confidential, eventually decided to vacate the apartment – ​​against what he said was in charge.
He was not the only one to make such a decision. Bankole lives in the building with her daughter and was shocked to see the fire slowly moving towards their house.
Emergency services did say the high-rise building has fireproof walls, which should keep tenants safe in their units. But the mother who saw the flames approaching, Oluyinka Bankole, did not take that risk.
"When I saw fire — naked fire — with my own eyes, I had to run with my daughter," said Bankole. 'Why would you say we should stay in the house? I am angry. My daughter and I kept calling. Why would she tell us to stay in the house?'
Bankole said she called management repeatedly to ask what to do as the flames approached.
"And I saw the fire in my room, and I called her again and she said they had no clues to come out that we had to stay in the room," she said, "but when I saw the fire, I had to get out ."
By the time Bankole spoke to TBEN 2's Franza, she still hadn't been told what to do next.
"Nobody says anything to us," she said.
Some neighbors were also amazed at how the fire spread so quickly as the wind blew outside.
"We've got sprinklers and stuff, so I don't know how or why it was able to spread like that," says Sheila Quinn, a resident of the 25th floor.
Families watched from below as the fire flared up.
"I wanted to panic. I cried because I knew this was her building," says Latina Brown, whose mother lives in the building. "I said that's my mom's building."
Seconds felt like hours until Brown reached out to her mother.
"We'll just take her home," Brown said.
The American Red Cross was spotted on the scene and attempted to contact tenants — some of whom had been in the building's banquet hall since the fire was contained.
We also know that the Office of Emergency Management and Communications is working to find shelter for anyone who is displaced.