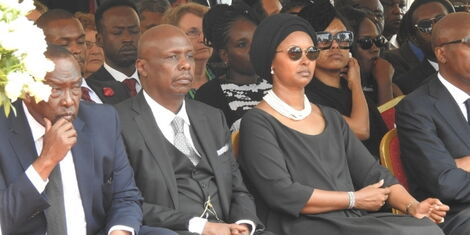 Court documents have shed new light on how Kenya's 2nd President, the late Mzee Daniel Arap Moi, shared billions of wealth among his eight children.
According to his will presented to the court, Moi left a 931 hectare plot of land to be divided among his five sons; Jonathan Kipkemboi Moi, Gideon Moi, Raymond Moi, Philip Moi and John Mark Moi.
He gave clear orders to his administrators at Kabarak University to share the ancestral land equally between his sons who would later transfer the plot to their children.
Moi also gave 100 million Ksh to each of his three daughters; Jenifer Chemutai Moi, June Chebet Moi and Doris Chekorir Moi.
Left to right: Raymond Moi and Gideon Moi at the funeral ceremony for former President Daniel arap Moi in Baringo County in February 2020
Facebook
The former president, however, did not include in his will a disputed Ksh 2.5 billion plot of land in Muthaiga, Nairobi. Muthaiga's 19.7-acre land was excluded from his will dated November 15, 2005, and the will rewritten a few years later.
A US-based Kenyan doctor, Dr George Kiongera, had objected to the distribution of Moi's wealth, arguing that a case had been filed with the Environment and Land Court in Nairobi to determine the ownership of the land.
Moi was charged with selling the land to three different companies at the same time between the years 1988 and 2016. Kiongera asked the court to erase the plot from Moi's will. The court clarified, however, that the land was not listed in Moi's codicil (rewritten will), and therefore could not stop the distribution of its wealth.
David Chelugui, son of former chief Noah Chelugui, also asked the court to remove lawyer Zehrabanu Janmohamed as executor and trustee of Moi's will. Chelugui asked for Ksh 1 billion in compensation his family won in a 2019 land case against Moi.
The court heard that Moi's family had filed an appeal against the case, which has yet to be decided. Judge Aggrey Muchelule rejected the request of the former chief's family saying the court could not stop the implementation of Moi's will.
In February 2020, retired AIC bishop Silas Yego revealed that the former president shared his fortune before he fell ill and died in February 2020..
"It was something he did sometimes before his condition deteriorated and lost his voice. He made sure to divide his possessions among all of his children and dependents.
"The will was filed with one of his attorneys, I can't tell you," Yego said.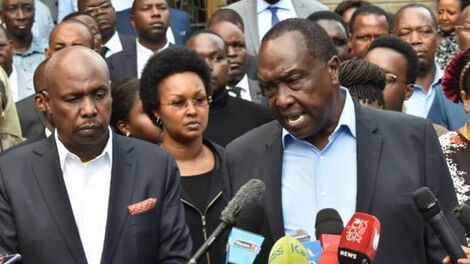 Senator Baringo Gideon Moi and his older brother and Rongai MP Raymond Moi speak to media in February 2020
To file