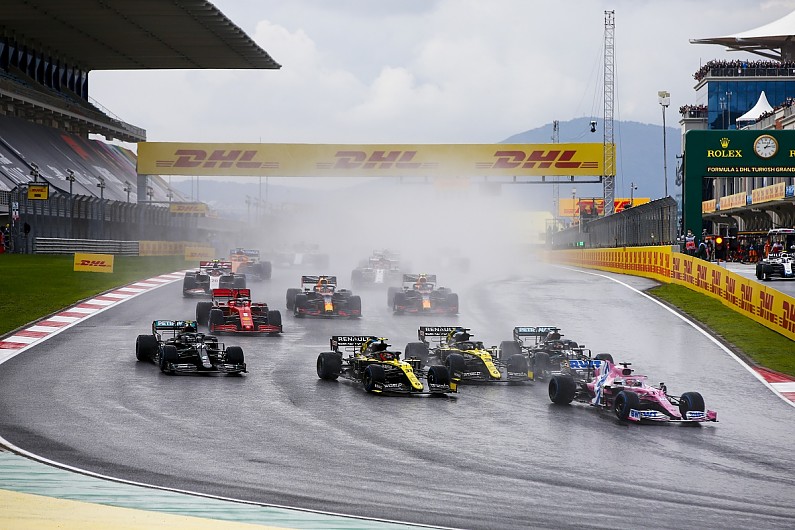 Daniel Ricciardo says he is not disheartened that Renault is now "underdog" in the fight for third place in the standings with Formula 1 rivals Racing Point and McLaren.
The Australian played a central role in a fierce fight between his own Renault outfit and his two rivals for the best of the rest behind Mercedes and Red Bull.
But while the three had been separated by a single point heading into last weekend's Turkish Grand Prix, a strong weekend for Racing Point and a disappointing exit for Renault means there is now a gap. of 18 points between them.
Ricciardo admits the situation is not ideal, but says that with three races to go, Renault still has plenty of opportunities to fight back.
"Of course now we're the losers, but it's still doable, and there are still three races," he said. "If there were only one race left, or two, I would certainly be a little more pessimistic. But we can still do it.
"It's obviously a shame that there was a great swing [in Turkey]. It stings, we can't deny it. But with three races to go, I think we still have a chance to succeed.
"And although the races will probably be dry, they will still be a bit underway. We know Bahrain, it's a tight turn. So maybe Sergio [Perez] and [Lance] Walk want to meet you! We will see."
Ricciardo's teammate Esteban Ocon shares optimism that the fight with Racing Point and McLaren is far from over.
When asked if he thought Renault was still winning the battle for third, he replied: "Yes, a lot. I think we still have all the opportunities ahead of us.
"There are still three races to go, a lot of points available on the table. Where we are, it can turn very quickly from path to path. So, you know, I have no doubt we'll be at new fight in Bahrain and Abu Dhabi. "
Ocon also believes that the expected warmer temperatures in Bahrain and Abu Dhabi, compared to recent races, will give his team a boost.
"I think we're generally pretty good in the heat-hot circuits," he said. "Usually we take good care of the tires and on these tough tracks we're pretty strong."
TBEN has produced a special standalone magazine to celebrate our 70th anniversary. All current print subscribers will receive a free copy. To order your copy of the 196-page TBEN 70th Anniversary issue, go to: TBEN.com/autosport70th
.