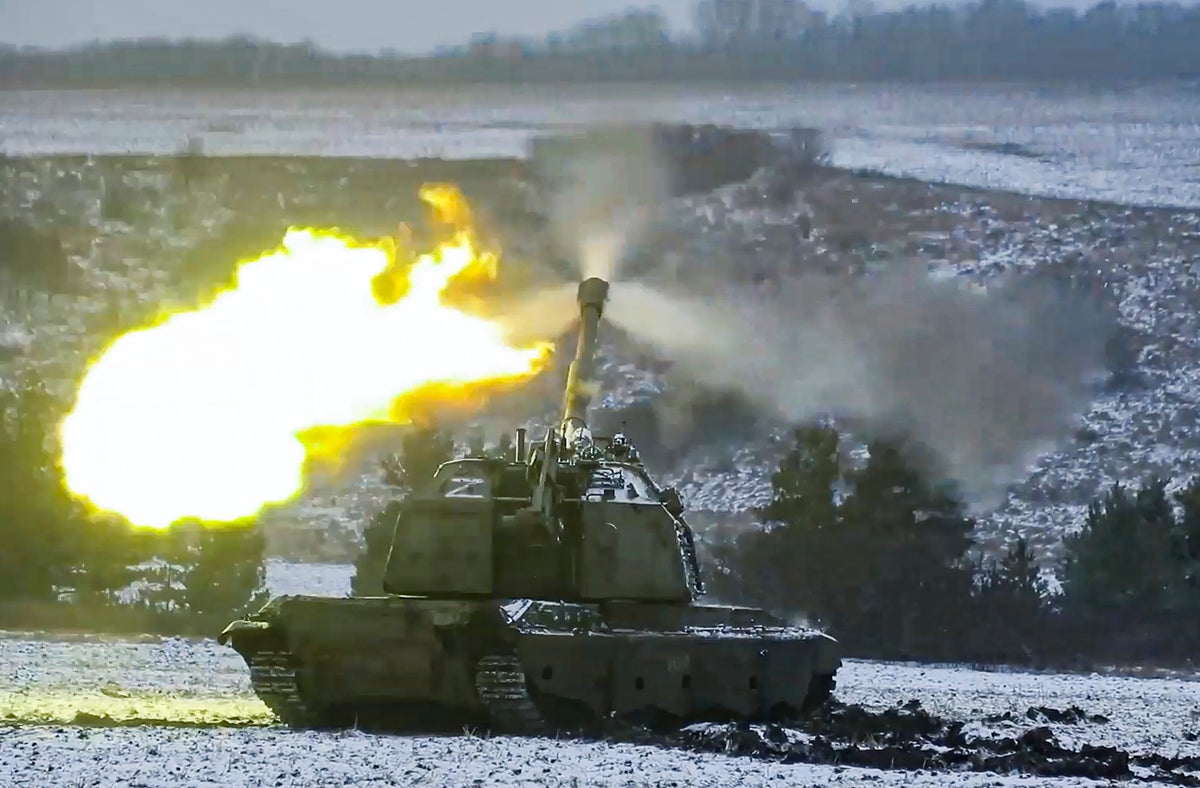 Russia has claimed its forces have taken control of Soledar in eastern Ukraine in what would be a rare success for Moscow after months of setbacks.
Ukraine denied the claims, saying its troops were still fighting in the salt mining town of Donetsk, which was the center of a relentless Russian assault.
Moscow has portrayed the battles for Soledar and the nearby city of Bakhmut as key to conquering all of Donbas, including the Donetsk and Luhansk regions – a priority of Vladimir Putin's invasion. Kiev has instead tried to play off how many Russian troops had to be sacrificed in the effort. Western officials say victory for Moscow in the two cities would be more symbolic than strategic.
Russian-affiliated mercenaries of the Wagner group claimed they had won the city days before official news came out of Moscow, detailing a rift between the group's leader Yevgeny Prigozhin – known as "Putin's chief" – and the Kremlin.
"The capture of Soledar was made possible by the continuous bombardment of the enemy by attack and army aircraft, rocket troops and artillery from a group of Russian troops," the Moscow defense ministry said in its initial statement on Friday. Mr Prigozhin subsequently released a statement saying he was "surprised" when he read the Defense Ministry briefing. There was "not a single paratrooper" in the city, he stressed, warning of "offense [his] fighters" and "stealing other people's achievements".
The Defense Ministry later issued a second statement "to clarify the situation". "As for the direct storming of Soledar city quarters occupied by the Armed Forces of Ukraine, this combat task was successfully accomplished through the courageous and selfless actions of volunteers of the Wagner assault detachments," it said.
On Friday night, Prigozhin accused "officials who want to stay put" of posing the biggest threat to his group's advance in Ukraine.
Ukraine would normally like to make the most of the Russian infighting in its statements, but Kiev was more concerned with denying Moscow's claims of victory. Serhiy Cherevatyi, spokesman for Ukraine's eastern military command, said: "Our units are there, the city is not under Russian control."
A Ukrainian officer in the area, who spoke on condition of anonymity because he was not authorized to speak to the media, also told Reuters that the Russians had not completely taken the city.
'Last night artillery fire was like hell, on both sides. As far as I know, our guys managed to leave some parts [of Soledar] in an orderly manner and now [assault] groups are counterattacking, but we still hold the city."
Ukrainian officials said on Thursday that more than 500 civilians, including 15 children, were trapped in the city.
In a video address on Thursday night, Ukrainian President Volodymyr Zelenskiy thanked two units in Soledar that he said "held their positions and inflicted significant casualties on the enemy". He did not give more details.
As Ukrainian troops participate in exercises near the Belarusian border in preparation for what Kiev fears will be a new Russian offensive launched by Moscow's closest ally, the Russian foreign ministry official said the White -Russian President Alexander Lukashenko could enter the conflict in Ukraine if Kiev decides to "invade". any country.
Russia used Belarus as a springboard to invade Ukraine last February and has deployed troops to Belarus for joint military exercises since October.
Meanwhile, Ukraine's allies continued to ramp up their support with new arms pledges. Finland allied itself with Poland in promising to send German-made Leopard tanks to Ukraine as part of a Western coalition apparently being assembled to supply them. The move requires the permission of Germany, which has indicated that it is moving away from its initial reluctance.
Major new weapons announcements are likely next week, when US Secretary of Defense Lloyd Austin receives defense chiefs from other allies at a US air base in Germany for a meeting of the contact group set up to support Ukraine.
Reuters contributed to this report