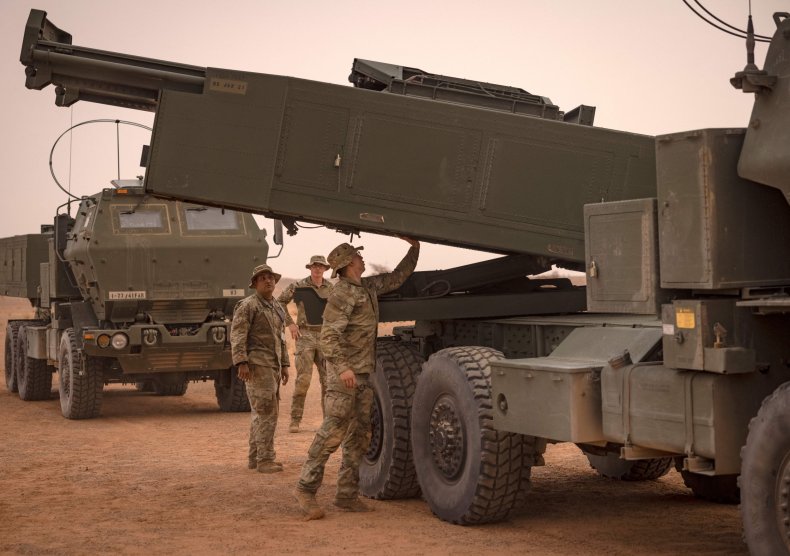 Russia has said its forces have destroyed Ukrainian multiple missile systems (MLRS), in addition to US-supplied weapons, which have massively ramped up Kiev's war effort
Russian Defense Ministry spokesman Lieutenant General Igor Konashenkov said his country's armed forces had destroyed a Ukrainian platoon of weapons, including the US-produced M142 High Mobility Artillery Rocket Systems (HIMARS).
"During a counter-battery battle, a Ukrainian platoon of Alder multiple missile systems and American HIMARS was destroyed near the village of Pyatigorskoye, in the Kharkov region," Konashenkov said, according to Tass news agency.
The Alder is a Ukrainian-made guided munitions MLRS that entered service with the Ukrainian Armed Forces in 2018.
Konashenkov did not specify how many of the systems the Russian armed forces had allegedly been targeted. But he said Russian troops also hit platoons of Grad MLRS, Soviet-era Gvozdika and D-30 howitzers in the Moscow-backed Donetsk People's Republic and the Nikolaev region.
News week has contacted the Ukrainian Defense Ministry about Moscow's latest assessment of its gains.
As News week has previously reported that in the past month Moscow has made a number of unverified claims about destroying HIMARS, whose accuracy and range of more than 80 kilometers has allowed Ukraine to hit dozens of Russian ammunition depots and command centers.
Ukrainian and US officials have indicated that at least 16 HIMARS have been delivered to Kiev's armed forces, with more reportedly on the way. A new batch of ammunition for the systems will also be delivered, according to Reuters, as part of a $1 billion military package that the Biden administration will announce next week.
One of Russia's claims is that its forces destroyed a storage facility with HIMARS missiles in Radushnoe, Dnipropetrovsk Oblast on July 7.
On July 17, Moscow said it had destroyed a single HIMARS launch vehicle next to a "loading vehicle" in front of it in Krasnoarmeysk, in the Donbas. Because HIMARS does not require additional vehicles or equipment to reload, the claim was questioned.
Further claims of strikes on the systems, which, if true, would increase the number of HIMARS units destroyed to six, have been rejected by Ukraine.
Meanwhile, the Pentagon this week said there was no credible evidence to suggest that any of the HIMARS units had been destroyed or damaged.
It comes as British defense officials said Russian troops had moved convoys of military equipment and troops to Kherson, in the southwest, where Ukrainian forces are mounting a counter-offensive.
The UK Defense Ministry assessment on Saturday described the development as a signal that the war was entering a "new phase".