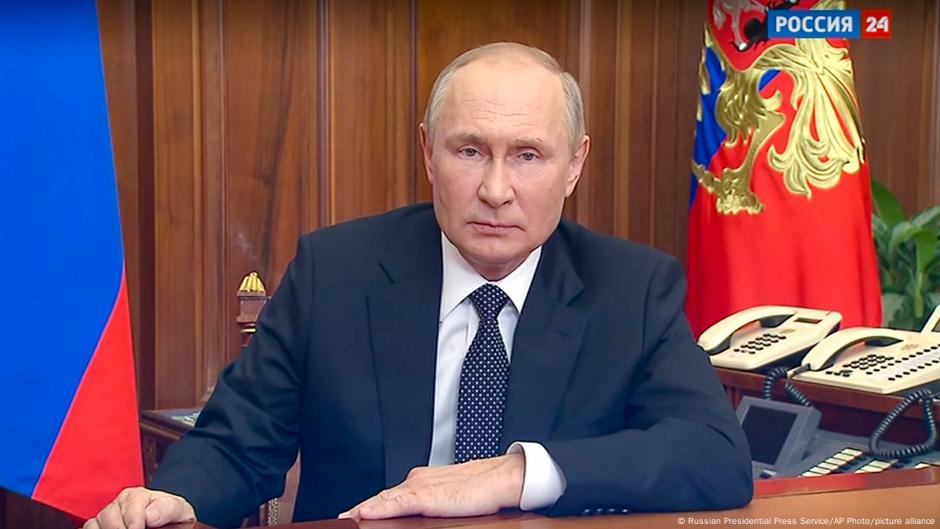 Russian President Vladimir Putin said he has signed a decree on partial mobilization from Wednesday.
Putin said in a televised speech on Wednesday that his goal was to "liberate" Ukraine's Donbas region and that he was defending Russian territories, adding that the people of the region did not want to return to what he called the "yoke" of Ukraine. mentioned.
The Russian leader stressed that he was "talking about partial mobilization, that is, only civilians currently in the reserve are conscripted, and especially those who have served in the armed forces have a certain military specialty and relevant experience."
Russian Defense Minister Sergei Shoigu said 300,000 reservists would be called up.
Putin's speech comes a day after Russia-controlled regions of eastern and southern Ukraine announced so-called referenda on accession to Russia.
The "referendums", which will be held between September 23 and 27 in the provinces of Luhansk, Donetsk, Kherson and Zaporizhzhya, represent about 15% of Ukraine's territory, or an area about the size of Hungary.
"If the territorial integrity of our country is threatened, we will certainly use all the means at our disposal to protect Russia and our people. This is not a bluff," Putin said.
The West wants to "weaken, divide and ultimately destroy our country," Putin added.
Here's an overview of some other key developments on September 21 regarding the Russian invasion of Ukraine.
Biden will address the UN General Assembly later on Wednesday
US President Joe Biden will address the United Nations General Assembly in New York during the morning session.
Biden is expected to gain support for Ukraine after news of Russia's partial mobilization.
The US president usually addresses the UN on the opening day of the summit, but Biden appears on the second day because he attended Queen Elizabeth II's funeral earlier this week.
British Prime Minister Liz Truss and Iranian President Ebrahim Raisi will also address the meeting today.
Putin's speech was 'predictable', says Ukrainian presidential adviser
Mykhailo Podolyak, an adviser to Ukrainian President Volodymyr Zelenskyy, told Reuters news agency that Putin's speech was an "absolutely predictable appeal, more like an attempt to justify their own failure".
"The war is clearly not going according to the Russian scenario and therefore Putin had to make extremely unpopular decisions to mobilize and severely limit people's rights," Podolyak said.
Germany, UK and US denounce Putin
German Vice-Chancellor Robert Habeck said Germany decided to respond to Putin's call for partial mobilization.
Putin's speech was "another bad and wrong move by Russia, which we will, of course, discuss and consult politically on how to respond," Habeck said.
British Defense Secretary Ben Wallace said on Wednesday that the mobilization of Russian troops was tantamount to acknowledging the defeat by the Russian president.
Putin's "invasion failed" and "(Putin) and his defense secretary have sent tens of thousands of their own citizens to their deaths, ill-equipped and ill-managed," Wallace said in a statement.
Gillian Keegan, a minister at the British Foreign Office, told Sky News that Putin's speech was a worrying escalation and that the threats he made should be taken seriously.
"The general address was clearly more of Putin's lies, it was a rewrite of history," Keegan told the TV station.
US Ambassador to Ukraine Bridget Brink tweeted that "mock referendums and mobilization are signs of weakness, of Russian failure"
She added that the US would never recognize Russia's claim of "supposedly annexed Ukrainian territory" and that the US "will stand behind Ukraine as long as necessary".
Zelenskky appears at UN meeting
Ukrainian President Volodymyr Zelenskky will appear from Ukraine on Wednesday before the ongoing United Nations General Assembly in New York.
The 193-member assembly voted last week, making a special exception for Zelenskyy to pre-record his speech due to the "ongoing foreign invasion" and military hostilities obliging him to carry out his "national defense and security duties".
The war in Ukraine has dominated the annual gathering, where on the first day several world leaders denounced Russia for invading a sovereign nation.
Russian President Vladimir Putin will not attend the global meeting.
Meanwhile, Ukrainian troops said on Tuesday they will continue to make gains toward Luhansk.
jsi,dvv,rm/kb (TBEN, TBEN, Reuters)