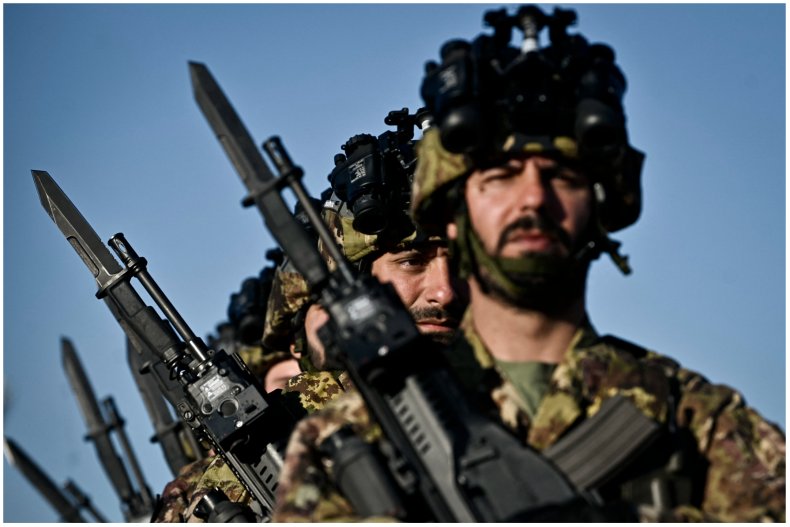 A Russian state television pundit appeared to suggest that his country's withdrawal from Kherson could be part of a "secret plan" to lure NATO troops into Ukraine to "destroy them."
Russian troops left Kherson earlier this week, allowing Ukrainian troops to enter the city unimpeded.
The retreat represents a significant setback for Russian President Vladimir Putin after he formally annexed four Ukrainian provinces to the country earlier this year, including Kherson Oblast.
TV host Tigran Keosayan appeared in a panel discussion on Saturday, where he said he hoped the Russian withdrawal would lull Western troops into a false sense of security.
In a November 12 clip shared on Twitter by the Russian Media Monitor, Keosayan said: "I hope this may be a secret plan to lure them. Remember we discussed this a week ago. You said this most likely a trap but now I'm talking more about a global trap.
"Right now we are showing that we cannot defend ourselves against NATO forces. Now that they have lost all restrictions, NATO forces are crossing the borders of Poland, Slovakia and the Czech Republic – filling all of Ukraine and then we destroy them all.
"with FAB [unguided heavy explosive bombs and napalm. Terrified, they run away. I don't have any other plan. It's sad honestly. Sad because it doesn't correspond with the rhetoric that is being maintained within society, as opposed to the actual state of affairs."
World leaders have repeatedly ruled out sending NATO troops into Ukraine and have instead donated billions in military aid. The U.S. alone has committed at least $19.3 billion since the start of the war.
Despite not having support from NATO troops on the frontline, Ukraine claims more than 80,000 Russian troops have been killed since the start of the war. This figure has been disputed by Russia and military analysts.
Recent military losses and the retreat from Kherson have led to anger from some Putin allies.
Alexander Dugin, known as "Putin's Brain," hinted in a veiled warning that the Russian leader could see himself overthrown if he did not get a grip of the situation.
And Russian state TV presenter Vladimir Solovyov expressed his frustration that Russian forces had retreated.
In an animated appearance on his Saturday morning show 'Full Contact" on Vesti FM radio, Solovyov said: "I've been screaming out loud since February that we need to strike the bridges, destroy the infrastructure, delivery entryways. They [Russian military] said, 'You don't understand, they're bringing their equipment to the same area and we'll destroy it!'
"So you broke it? 'You don't understand, it's a brotherly nation, we'll have to mend these bridges, we'll go through them'."
He went on to question reports that Russian troops had blown up bridges as they fled across the Dnipro River.
Solovyov added: "Where? Where shall we enter? When they left? [Kherson], they blew up the bridges. Where are we going in?"
News week has contacted the Kremlin for comment.