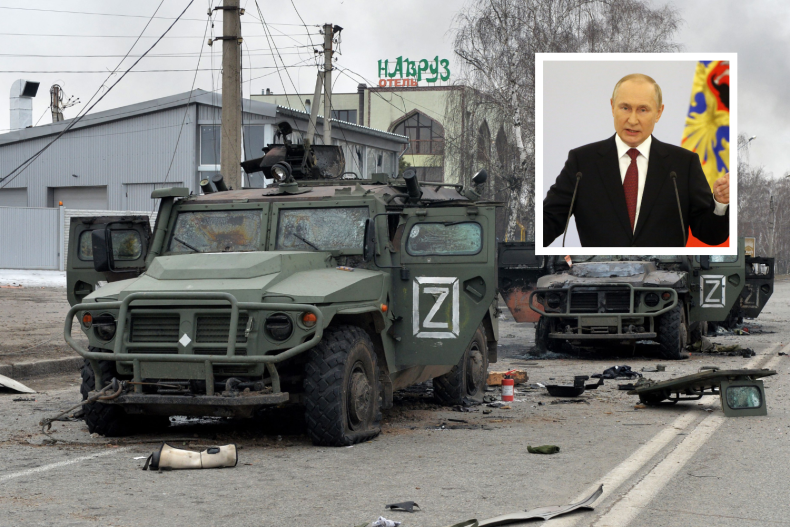 Ukrainian officials reported the destruction of a Russian "Tiger" vehicle, among other targets, in a report detailing the escalating conflict in a key region.
The Zaporizhzhia region is the second southernmost of the four regions that Russia claimed to have annexed in September. On Friday, Vladimir Rogov, the Russian-installed leader of Zaporizhzhia, reported that conflict in the region had begun to escalate, with Russian troops capturing a village about 50 kilometers away from the capital, which is controlled by Ukrainian troops and deploying tanks. , mortars and artillery fire to pursue control of other villages.
In a post on its official Facebook page on Monday, the General Staff of the Ukrainian Army offered its own updated report on the conflict in Zaporizhzhia, noting numerous casualties on the part of the invaders and lost pieces of hardware, including a GAZ Tigr armored vehicle, commonly known as a "Tiger."
"Russian occupiers still die impeccably in Ukraine," explains the post, as translated using an online application. "During January 20-21, the enemy carried out offensive actions in the direction of Zaporizhzhia near Mali Cherbakov. According to clarified data, the loss of invaders during this period as a result of the battle with the units of the armed forces amounted to more than 50 people … In addition, 9 units of weapons and military equipment of various types were destroyed (tank, 6 BMP units and an armored car 'Tiger'). Another 4 units were damaged."
The report also claimed that Russian forces are facing mounting casualties in the other annexed regions, which it called "temporarily occupied". In Kherson, which borders Zaporizhzhia to the southwest, the general staff claimed that local hospitals are being overrun with wounded Russian soldiers, with only a small number being shipped to Crimea for treatment.
"Since the beginning of January this year, the number of wounded enemy soldiers in the temporarily occupied part of the Kherson region has increased significantly," the report said. "Local hospitals are overwhelmed. All seriously injured are concentrated in medical facilities in the region. Only a small number are sent to temporarily occupied Crimea for further treatment."
The report also added that Russian troops are trying to isolate the local population in Severodonetsk, part of the annexed Luhansk region. To achieve this, they are reportedly working to block access to "Ukrainian television and mobile networks".
News week contacted Russian officials for comment. It also reached out to military affairs experts for further insight.