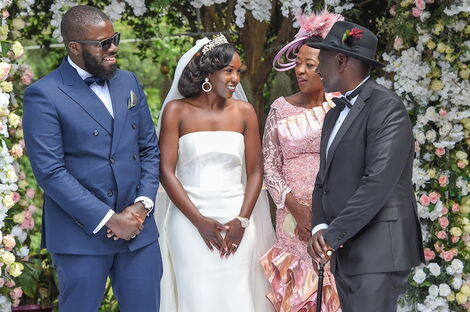 President William Ruto's son-in-law, Alexander Ezenagu, on Wednesday, September 14, praised the head of state for his commitment to creating a favorable environment for Kenya to thrive.
In a statement, Ezenagu emphasized Ruto's priority in foreign direct investment (FDI) and local manufacturing. FDI is a kind of investment from a party in one country to a company in another country in order to forge lasting ties.
He noted that the efforts would create a favorable business environment for economic growth.
Ezenagu graced the inauguration event at Kasarani Stadium along with his wife, June Ruto.
From the right; Vice President William Ruto, 2nd lady Rachel Ruto, their daughter June Ruto and her husband Alexander Ezenagu
Twitter
"On September 13, 2022, my father-in-law, His Excellency, Dr. William Samoei Ruto was sworn in as the 5th President of the Republic of Kenya.
"Of great importance is his administration's commitment to creating a favorable business environment for foreign direct investment and local production and productivity. I wish His Excellency a great tenure," he noted.
Camera shy
Ezenagu shunned the public eye after he tied the knot with June on May 27, 2021. The event was filled with pomp as guests and allies from the United Democratic Alliance (UDA) party graced the event.
During the reception ceremony, Ruto explained how he had met the Nigerian national and revealed how he was both anxious and excited to give his daughter away for marriage to a foreigner.
The president went on to tell a story he told his son-in-law about a controversial businessman Anthony Chinedu who made headlines in 2013 when he was deported from Kenya for being in the country illegally.
"When I first met Alex, I told him a story about a man named Chinedu who caused us a lot of trouble and I was told that that man was an Igbo."
"This Chinedu man gave us so much trouble that we deported him to Nigeria and when we deported him he refused to get off the plane in Lagos for two days. Even after we left him there, we found him in Kenya," said Ruto.
Ruto also advised his daughter to be submissive to her husband.
wallet
The Nigerian citizen can boast of an impressive portfolio that has pursued law with a particular interest in international trade and taxation.
according to his Linkedin profile, Ezenagu is an assistant professor in the College of Law at Hamad Bin Khalifa University (HBKU), Qatar.
He graduated from the University of Cambridge in the United Kingdom, where he obtained a Masters in Commercial Law. The lawyer holds a PhD in international tax law from McGill University, Canada.
For his expertise, Ezenagu has been cited in the TBEN, the International Consortium of Investigative Journalists' Paradise Papers, Tax Notes International, International Tax Review, Quartz and other media.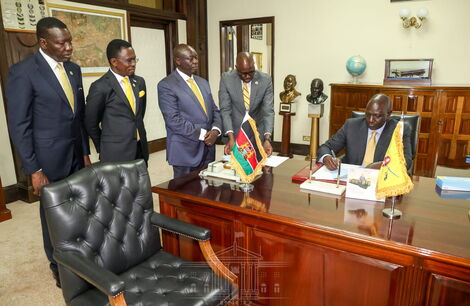 President William Ruto will sign an executive order to appoint judges to the Nairobi State House on September 13, 2022. Watching are Davis Chirchir (left) Ababu Namwamba and Vice President Rigfathi Gachagua.
PSCU
illegal