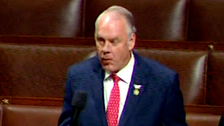 Rep. Ryan Zinke (R-Mont.) Says he's got your back, buckaroos. (Watch the video below.)
The MAGA House member ranted on the House floor on Tuesday that the "deep state" is trying to drive cowboys for good in a speech that was far from home on the beach.
"There is no question that the deep state of the federal government is coordinating with liberal activists and politicians and using willing media outlets to carry their water," he said. "…In many cases, they want to eradicate the American cowboy completely, deny public access to our land, and make Montana a national park."
Rep. Jim McGovern (D-Mass.) said the commission was "essentially designed to protect those who, quite frankly, are currently under investigation." Rep. Pete Aguilar (D-Calif.) called the committee, which will likely be headed by Rep. Jim Jordan (R-Ohio), a den of "aluminium hat" conspiracy theorists.
Zinke insisted he has been a victim of the deep state, portrayed as a cabal of hidden liberal operatives attacking right-wing interests.
"Despite the deep state's repeated attempts to stop me, I stand before you as a duly elected member of the United States Congress and tell you that the deep state exists and that it is perhaps the strongest secret weapon that the left has against the American people." Zinke said.