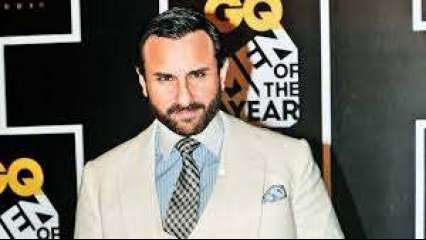 In August of this year, much to the delight of his fans, Bollywood actor Saif Ali Khan announced his autobiography. However, now it looks like the 'Bhoot Police' star is going to 'come out' due to the abuse he anticipates that will be directed at him if such a book is released.
In a recent podcast with actor, model and social media influencer Amanda Cerny, the actor revealed that he was considering not writing the book because he didn't want to share things about his life with a certain section of the audience. in India which is "negative".
Appearing on Amanda's show with 'Bhoot Police' co-star Jacqueline Fernandez, Saif said he was unsure if he was 100% prepared for the abuse he said would come. to him.
"Someone asked me to do a book, and maybe I could let off steam, because it's too much work to do it right, and you also have to be very honest, which will probably bother a lot of people." "Saif said.
Jacqueline interrupted him and said, "Don't you think this is what we need now?"
Saif continued, "Honestly, I don't know if I'm ready for the 100% abuse that is going to come my way."
He added: "I'm so sorry to say it, I'll say it, I don't think the general public – and not just the general – but there will be a part of the public that will be so negative in India that I won't don't want to share my life and talk about things … "
Laughing, Saif revealed that he didn't even tell the editors that he had doubts. "Maybe I'll do it, maybe I won't," he said, sharing an anecdote. "When I was walking today, part of the book had to describe how I felt and what I thought looking at those trees and thinking about how lucky we are to turn Himachal, and it's not really," he said.
Meanwhile, Jacqueline explained to Saif why she and Amanda came up with the idea for the podcast and said they were focusing on the good and the good stuff and the news. The actor told Saif his books were one of the most positive and said that sometimes people just want to read their minds and learn a little bit from you and you.
To that, Saif replied that he preferred to rephrase what he said and said, "I think I'm going to have to work hard to find the right balance between artistic description in some kind of dialogue about what it feels like. and to decide how much you want to get. And I think it could be a really good platform to share experiences. "
He also later added that he was enthusiastic about it and said, "I'll try to do it right. But I think it can't be done easily. They (the editors) got an idea that I just told a writer and then we go through various topics, but I think it will take some effort to sit and think, write and explore art. It can't just be raw. "
Earlier, speaking of his still untitled autobiography, which will be published by HarperCollins Publishers India, Saif said, "So much has changed and will be lost over time if we don't record it. It would be nice to look back; to remember and save. It has been funny and moving and I have to say it is quite a selfish endeavor. I hope others will enjoy the book too, of course. "
.