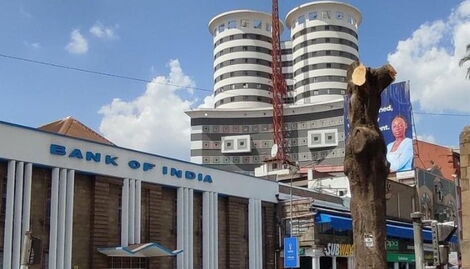 Nairobi Governor Johnson Sakaja has cleared the air about ongoing tree pruning practice in Nairobi's central business district.
Sakaja said in a statement on Friday, Sept. 23, that the trees had been pruned after some of the pedestrians howled over the Marabou stork's invasion.
"I have been assured that the pruning following the pedestrian protest over the recent invasion of the Marabou stork was procedural and that the tree will be cherished," Sakaja said.
An image of a pruned tree in Nairobi CBD on September 23, 2022
File
However, the governor also revealed that he was angry with the pruning exercise but assured that he will plant more trees in the city.
"I repeat, we will increase our tree cover in the city. I was upset like all of you, but the tree will grow," said Sakaja.
The Marabou stork is a large wading bird of the stork family that breeds mainly in South Africa and the Sahara. Although it is sometimes called the funeral bird because of its shape. The birds especially like to live near human habitation.
Like scavengers, they hunt and eat dead materials. Due to construction work in Nairobi County, the birds have been forced to move to landfills and places where they can nest. They therefore sought shelter in trees in the province.
The birds first invaded the city after the government began work on road projects around Nyayo Stadium.
During the construction of the Nairobi Expressway, many trees along the Mombasa road were cut, forcing the Marabou Storks to relocate.
They then migrated to the KICC, which is located right in the center of Nairobi's central business district. Their stay was short-lived, however, after the Nairobi County government decided to prune all acacia trees in the area.
Residents also complained about the invasion of the Marabou storks, complaining that the birds left droppings on cars parked in the city.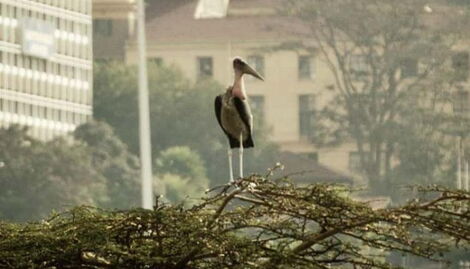 An undated image of a Marabou bird perching on a tree in Nairobi CBD
File
dead