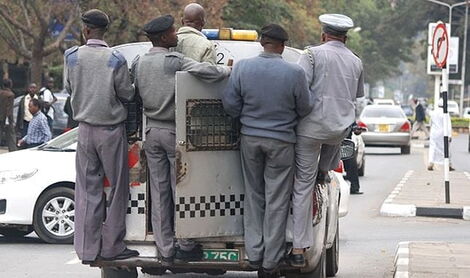 Nairobi Governor Johnson Sakaja ordered a crackdown on unauthorized vehicles driving in the Central Business District (CBD).
While announcing the operation, Sakaja lamented that unlicensed vehicles, including Noah, Voxy, Sientas and Tuktuks, were driving in the CBD without adhering to city laws.
"I don't want to see those small vehicles operating as PSVs in the CBD, they need to be removed immediately.
"If we allow such (the vehicles running in CBD) to continue, it will lead to anarchy," Sakaja stated.
Nairobi County Askaris on a routine patrol.
Facebook
The first city boss indicated that the operation would cover the Upper Hill area and other boroughs where unlicensed motorists operate as Public Service Vehicles (PSVs).
While defending the move, the former Nairobi senator stated that the move was key to restoring mental health to the city.
At the same time, Sakaja rescinded the seizure of vehicles in the CBD, adding that the city will issue ordinances targeting motorists who break traffic rules.
In addition, he ordered PSVs to self-regulate following the repeal of the county askaris vehicle impoundment.
"As of today, the vehicle confiscation has been withdrawn, but you must promise me that you will bring discipline to the sector," said the governor.
"I'm giving you this week to pay and regularize your licenses, if you don't do this you will have to leave the CBD," he added.
According to Nairobi's district chief, non-compliance had led to a loss of revenue, risking losing matatus and other PSVs that had not reached the threshold to operate in the CBD.
"Between 10,000 and 11,000 vehicles is not enough. This is a new government and we have to follow the law," Sakaja repeated.
In issuing the directive, Sakaja further revealed that some PSV operators had forged licenses to operate in Nairobi CBD.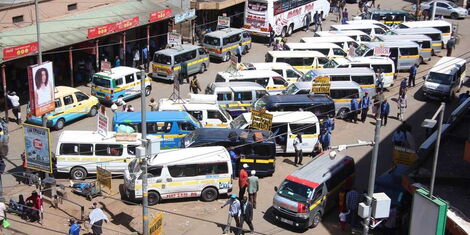 Matatus waits for passengers on Accra Road in central Nairobi.
Nation