A visit by Nairobi Governor Johnson Sakaja to Mama Lucy Kibaki Hospital after Moureen Anyango, a mother who gave birth to twins by Caesarean section, has revealed the dire state of the medical facility.
Sakaja, who made an unexpected visit to the hospital on Sunday, Sept. 11, revealed that the hospital's maternity ward was overcrowded with a doctor-patient ratio that was higher than the globally recommended one.
This increased the average wait time for patients to receive medical attention as staff were overwhelmed, potentially causing the patient's death.
In addition, expectant and new mothers were forced to share beds, which could pose risks for those who went under the knife.
Nairobi City County Governor Johnson Sakaja will carry a newborn baby in the nursery at Mama Lucy Kibaki Hospital on Sunday, September 11, 2022.
Johnson Sakaya
"The situation is not good! Mothers should not share beds, patients are not helped in time, medicines are not available," Sakaja sympathized.
The district chief apologized to the patients in the facility on behalf of the Nairobi Metropolitan Services (NMS) and the previous regimes. He promised to improve the hospital's conditions.
"On behalf of the previous government and the NMS, I apologize for the state of affairs. We will take better care of you. I will not rest until we achieve this," the governor assured.
Sakaja also offered condolences to the late Moureen's husband, Robert Omondi, on his loss. He stated that no one should lose their loved ones because of the poor health care in the province.
According to Omondi, his wife died after a postpartum haemorrhage. He told media he tried to call doctors to help his wife who had lost a lot of blood but had to wait four hours for the first sign of help.
"At 1:45 p.m. two nurses, after a commotion from the other patients, came and rushed her back to the theater," said the distraught husband.
Despite undergoing a blood transfusion, Moureen's condition deteriorated and Mama Lucy's staff advised her to receive specialized attention.
Because they were covered by the National Hospital Insurance Fund (NHIF), his choice of amenities was limited and most public facilities were out of space. They finally found an opening at Kiambu Level Five Hospital.
His wife was rushed to the Intensive Care Unit (ICU) where she died while under treatment.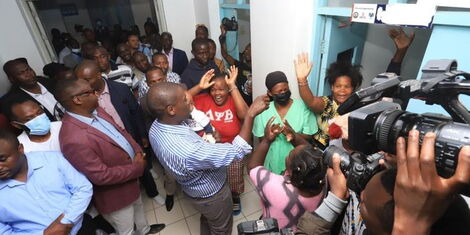 Nairobi City County Governor Johnson Sakaja communicates with patients during a visit to Mama Lucy Kibaki Hospital on Sunday, September 11, 2022.
Johnson Sakaya
medicine died dead