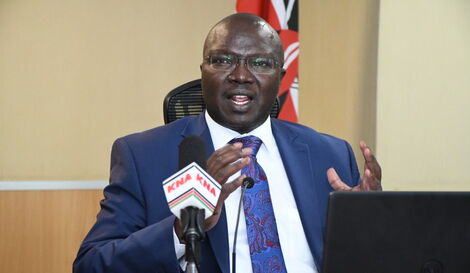 The Kingdom of Saudi Arabia has taken strict measures to ensure the safety of Kenyan workers after the uproar over beatings and mysterious deaths of domestic workers in the gulf country.
In a statement from the Kenyan Ministry of Labor, some of the new measures include the introduction of a wage protection program and an emergency call line to law enforcement officers.
Furthermore, Saudi Arabia has established a Protection and Support Department under the Ministry of Human Resources and Social Development that will handle complaints from migrant workers, recruitment agencies and embassies.
Undated file image of Ministry of Labor Cabinet Secretary Simon Chelugui at a previous event.
kenyanews.go.ke
To complement the initiatives, the Kingdom of Saudi Arabia has added measures, including the introduction of a labor reform initiative that will allow employees to change employers if they face any form of harassment. The labor reforms also define detailed procedures on how migrant workers can terminate or renew a contract.
Other measures include activating the Alternative Dispute Resolution mechanism that resolves cases brought to court within three weeks.
Locally, the Kenyan government has established a community oversight and feedback mechanism to facilitate continuous monitoring of private employment agencies. This would help ensure ethical recruitment and eliminate unscrupulous agencies. In connection with this, the government urged TBEN to use only accredited bodies.
In addition, the employment agencies will have to familiarize TBEN seeking work in the Gulf country with the new measures before signing a contract.
In addition, a toll-free number 0800222223 and a web portal were set up to report emergencies of migrant workers.
The new measures come after highlighting the plight of several TBEN who were mistreated in the Gulf countries. In particular, 24-year-old Kenyan student Diana Chepkemoi's case made headlines with her photos circulating online capturing her desperate condition.
The government intervened and returned Diana to the country just days after her situation was revealed. On her arrival, she noticed that other TBEN had worse conditions while working in the gulf country.
"I left Kenya to go to Saudi Arabia hoping to get a better life and to be honest mine was just the tip of the iceberg, the people are suffering there. My friends are suffering.
"I beg the government to save our people. They are being tortured psychologically and mentally. It's a shame to hear that the government can't do anything," Chepkemoi said.
Chepkemoi later received a job and a full scholarship from Meru University to continue her education.
Diana Chepkemoi, a Kenyan university student who works as a house manager in Saudi Arabia
Twitter
torment dead