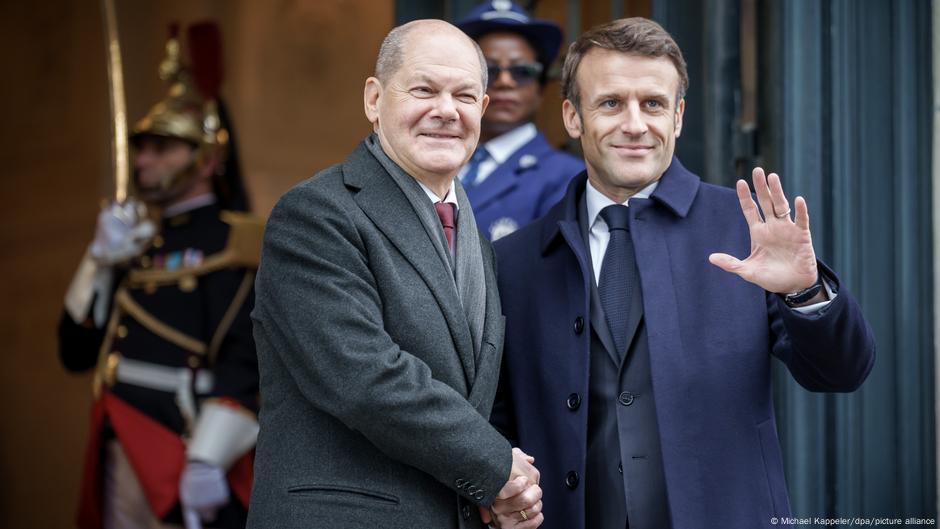 German Chancellor Olaf Scholz met with his French counterpart, Emmanuel Macron, in Paris on Sunday to mark the 60th anniversary of the signing of the Elysee Treaty.
Speaking at the Sorbonne University, Germany's Scholz said the future of Europe rests on the "driving force" of Paris and Berlin.
"The German-French engine is a machine for compromise – well-oiled, but also loud at times and characterized by hard work," said the German Chancellor.
Scholz spoke of the war in Ukraine and said that France and Germany would support Ukraine "for as long as necessary".
The Elysee Treaty between France and Germany, sealed in 1963, laid the foundations for close bilateral cooperation between the two former enemies.
Scholz, Macron and about 300 lawmakers from both countries gathered at the Sorbonne for a ceremony to mark the occasion.
Macron told the audience that Germany and France had "paved the way to reconciliation" and therefore had to become "pioneers to revitalize Europe".
He stressed the need to "build a new energy model", encourage "innovation and the technologies of tomorrow" and ensure that the European Union is "a geopolitical force in its own right, in the fields of defence, space and diplomacy".
Ministers of France and Germany hold a joint meeting
Later in the day, the French and German cabinets will participate in a joint council of ministers at the Elysee Palace. The two rounds of talks are expected to focus on energy and economic policy, followed by security and defence. Military aid to Ukraine is reportedly also on the agenda.
The meeting will be the first face-to-face meeting of its kind between the two governments since 2019. The joint talks were initially scheduled for October but were canceled at short notice, raising concerns over tense Franco-German relations. Both sides have since reaffirmed their close cooperation.
Scholz and Macron are expected to hold a joint press conference later in the day, followed by dinner at a Paris restaurant.
The Elysee Treaty was signed on January 22, 1963 by then French President Charles de Gaulle and West German Chancellor Konrad Adenauer.
nm/dj (TBEN, dpa)