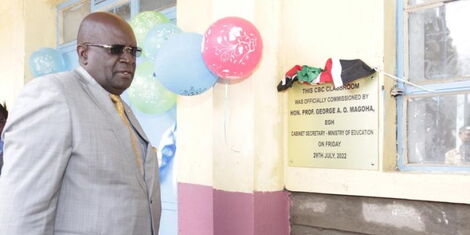 Parents may have to dig deeper into their pockets if the recent changes implemented by the Ministry of Education are implemented.
Education Minister George Magoha has pushed for the transfer of sixth form students to private schools rather than primary public schools for their lower secondary education by 2023.
Magoha noted that this is after the majority of private schools met the ministry's competency-based curriculum (TBEN) guideline. Thus, parents pay the fees as determined by the private schools.
"The issue of the government's offer to move with the private schools was one way to encourage them to expand inclusiveness in the transitional period of the competency-based curriculum," he said.
Education CS George Magoha poses next to a TBEN classroom he will see on the Rev. Gitau Secondary School had been put into operation.
Ministry of Education
In addition to the large number of classrooms built, private schools have also built laboratories that are fully equipped to facilitate learning.
"We had encouraged primary schools, especially in urban areas, to upgrade to secondary schools and a large number have done so and we are looking for between 3,000 and 4,000 classrooms," the CS noted.
He instructed the government to continue construction of other hanging classrooms in several schools.
"There are 20,000 classrooms available, it is the job of the new government to ensure that the remaining 20,000 classrooms are built," Magoha said.
In addition, the CS noted that since this transition is unique and the first in Kenya, the portal may not be available in the coming years.
"Private schools would only come to the portal if they have conformed, since they are companies, you can't force them," he noted.
The Kenya National Examination Council (KNEC) opened the portal for sixth form students to select the Junior Secondary Schools of their choice on Monday 15 August.
The exam body has also established guidelines for the Grade Six exams to be held in November 2022.
Parents are in the dark about impending changes to be made by the ministry and others hope to be included in the education task force that President William Ruto plans to form to revise the curriculum.
Several other stakeholders want to get involved and come up with viable solutions to the TBEN dilemma.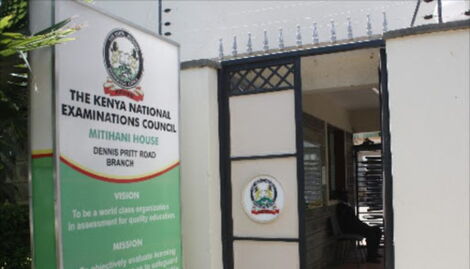 Entrance to KNEC offices along Dennis Pritt Road in Nairobi.
File