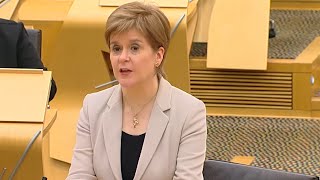 Nicola Sturgeon has confirmed that some children will be able to return to school after mid-February, but said the lockdown restrictions will not be lifted until March at the earliest.
Pupils in grades 1 through 3 will return to school full time, as will all out-of-school children in early learning and child care programs starting February 22.
A "limited number" of secondary school pupils may also return part-time to allow the school to carry out practical work, necessary for obtaining national diplomas, from the same date. In addition, there will be a "limited increase in provisions for vulnerable children," the prime minister said.
However, a second gradual return for students would not start until mid-March.
Ms Sturgeon also announced that she hopes to produce a new non-lockdown roadmap in the week of February 22, as she warned that a return to "100% normalcy" would not be possible in the near future.
Mainland Scotland was placed on lockdown on January 4 to tackle the growing spread of the new strain of coronavirus. The measures include a legally enforceable home maintenance order.
The rules were further tightened on January 16, with click-and-collect services banned except for those that serve essential items, such as clothing, baby gear and books.
In addition, take out and hot drinks can only be served outside of a building and a ban has been imposed on public alcohol consumption in level 4 areas, including those purchased. in take-out services.
New guidelines for these shields were also introduced. If you protect but can't work from home, don't go to work – the chief medical officer will write anything that applies to what acts as a doctor's note.
.