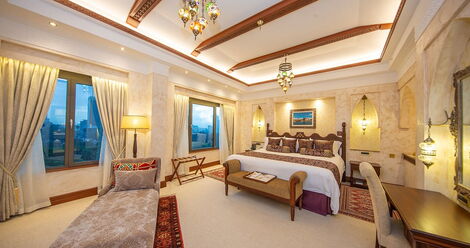 Visiting Tanzanian President Samia Suluhu checked into the Serena Hotel in Nairobi after arriving at Jomo Kenyatta International Airport on May 4, 2021.
Sources familiar with President Suluhu's itinerary recounted TBEN.co.ke that the visiting Head of State will stay at the 5-star hotel during his two-day visit.
"She went to the Serena Hotel to check in and freshen up after the flight before heading to State House for a meeting with President Kenyatta," the source said.
A room in the Presidential Suite of the Serena Hotel
Deposit
The hotel is located close to the State House, the Tanzanian Embassy and the easily accessible Parliament Buildings.
The 5-star hotel has a special facility located on the sixth floor which accommodates visiting heads of state, dignitaries and other guests who can afford the Ksh 400,000 per night.
The very words of the Presidential Suite suggest privilege and evoke an image of luxury with a butler listening to you.
The magnificent state suite comprises a spacious master bedroom with an en-suite bathroom and a walk-in closet, a spacious living room with a plasma TV, an audio center and a built-in workspace, a private dining room and a kitchen, a bar, entrance hall, guest toilet and room size of 167 m².
The hotel has succeeded in marrying modern furniture and traditional African art, giving it a unique atmosphere.
Other hotel guests have already been made aware of VVIP's stay at the hotel, such as the Kenya Media Council which will be hosting the annual Awards for Excellence in Journalism (AJEA).
AJEA is a flagship event of the Council which celebrates journalistic excellence and achievements in Kenya. The event will be chaired by Acting Chief Justice Philomena Mwilu.
On Wednesday, May 5, President Suluhu is expected to meet with the local business community and investors at the Serena Hotel on the second day of her visit.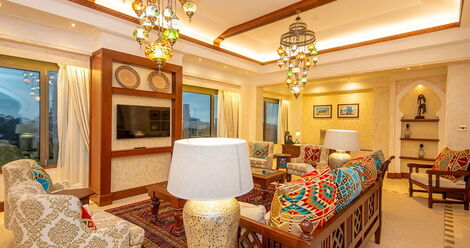 The lounge of the presidential suite at the Serena hotel
Deposit
The Tanzanian head of state will seek to attract Kenya's business community consider investments in the neighboring country.
She is keen to review the hostile economic policies introduced by her predecessor John Pombe Magufuli – which were particularly punitive for Kenyan-owned businesses.
Investors suffered losses as the tense trade ties between the two countries led to the destruction and seizure of goods.