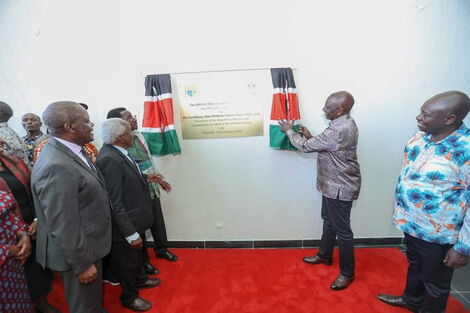 President William Ruto has called on youth to participate in research and innovation that develops solutions to solve societal challenges at the local and international levels.
In particular, during his visit to the Jaramogi Oginga Odinga University of Science and Technology (JOOUST) on Saturday, January 14, where he commissioned the institution's Blue Economy Research Hub, the president affirmed that technological advancements will boost the country's competitiveness on a global scale. would improve.
One of the projects praised by the head of state is the sericulture project.
Sericulture is an enterprise in which raw silk is produced by raising silkworms to manufacture silk products.
President William Ruto (second from right) commissions the Blue Economy Research Hub for Jaramogi Oginga Odinga University of Science and Technology (JOOUST) on Saturday, January 14, 2023. He is joined by DP Rigathi Gachagua (far right).
PSCU
JOOUST's project, in collaboration with Silk Origin Limited, has been able to plant 400,000 trees in Asiego, Siaya and Bondo.
Method
The sericulture process consists of three major steps for silk production; fishing, silkworm farming and silk reeling.
Moriculture is concerned with the cultivation of mulberry leaves while silkworm breeding promotes the growth of domesticated silkworms.
Sericulture, on the other hand, involves the extraction of silk filaments from the silkworm cocoons.
The last process involves weaving the silk filaments to form a thread.
However, silkworms require an intensive process, as they need to be fed every three or four hours.
Despite this, the climate in Kenya is ideal for growing mulberry trees and rearing silkworms.
Interest
Experts say the project shows the potential for youth as the government faces competing demands for finite resources.
University students can also leverage demand-driven research and expertise to improve private sector revenue generation.
Mulberry leaves and berries provide strong nutritional value with important minerals and vitamins and also have medicinal benefits, including lowering blood sugar.
Sericulture also offers farmers significant income and job creation potential as it is a way to improve the country's gross domestic product (GDP).
The project will also generate a wide range of revenue streams through numerous by-products such as sutures, serums and oils, tea, jams, wine and animal feed.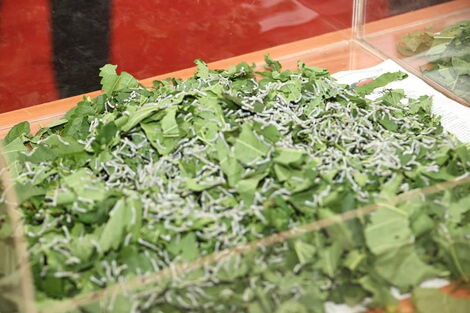 A view of the silkworm (larvae) from the sericulture project.
PSCU