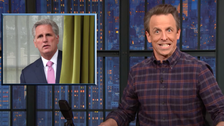 The "Late Night" host noted that entering the November midterms, Kevin McCarthy and his fellow Republicans had hyped a landslide victory for the party that would give them a large majority in the House. It didn't, and with only a narrow majority and a group of dissenters in his own party, McCarthy was forced to make concessions and endure 15 rounds of voting before he could take the speakership.
"For at least a year, prior to the midterm elections, McCarthy was incredibly cocky about it, even giving us specific numbers on how many seats Republicans could win," Meyers said.
In a clip from last April, McCarthy was asked on TBEN News if Republicans were perhaps a little "overconfident" this year. McCarthy said they weren't.
"There's going to be a historic red wave or my name isn't Klevin McCorthy," Meyers joked. It's never a good sign when someone says they're not overconfident. If a character says so in the movie, he's about 10 minutes away from being eaten by a T. Rex."
Watch "Late Night" below.