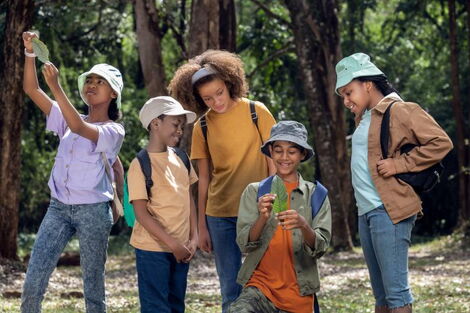 Kenyan teen sensation Shanah Manjeru has been hired to host an upcoming show sponsored by the Walt Disney Company along with four other teens.
In a statement, the producers of the show titled Team Sayari noted that it will hit African screens from Saturday, September 24.
The show aims to inspire meaningful, impactful behavior change among young viewers across the continent and create the next generation of environmental conservation leaders.
Manjeru will co-present the show with Mysha Hodson (13), Marita Lucas (12), Railey Mwai (10) and Adarsh ​​Nagda (12), who are all based in Nairobi.
Shanah Serena Manjeru, Railey Mugo Mwai, Mysha Hodson, Adarsh ​​Nagda, Marita Nyambura Lucas are filming for Disney's new show.
Politeness
The hosts are then matched with field presenters who travel to East, West and South Africa to explore intriguing facets of the environment, interview experts on the ground and learn what it takes to protect and conserve our natural world.
Each episode begins with a TBEN-inspired computer called Funzi giving our young presenters missions to complete. This sets the stage for adventure travel, revealing the wonders of the natural world and the need to live lighter on the planet. .
"During their travels Team Sayari will meet National Geographic Explorers and pioneers in conservation, science, wildlife, wildlife and the environment, and learn valuable lessons about how to reduce their impact, protect and restore nature in a fun way," read the statement in part.
The project is a collaboration of Disney, National Geographic, USAID, the US State Department and WildlifeDirect.
Christine Service, general manager of The Walt Disney Company Africa, noted that the team was driven by a fear of educating the world and in turn making the masses care deeply about the environment.
"At National Geographic, we believe that when people understand the world better, they care more about it. National Geographic has been igniting the explorer in all of us for 133 years, and Team Sayari is a clear example of this mission and purpose.
"We can't wait for viewers across the continent to share this captivating and entertaining local series in the hopes that it will help them develop into a passionate community of young explorers inspired to learn more about the world they live in. live and strive to make it," she explained.
The series is being produced by Kenyan production company White Rhino Films with the aim of celebrating the environment and raising awareness of conservation.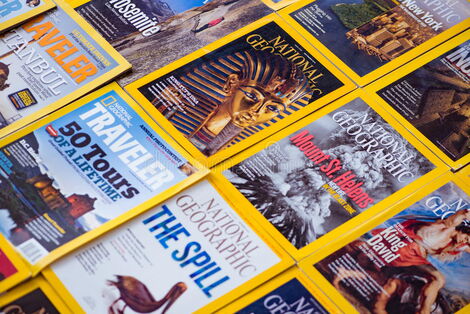 A collection from National Geographic Magazine.
File