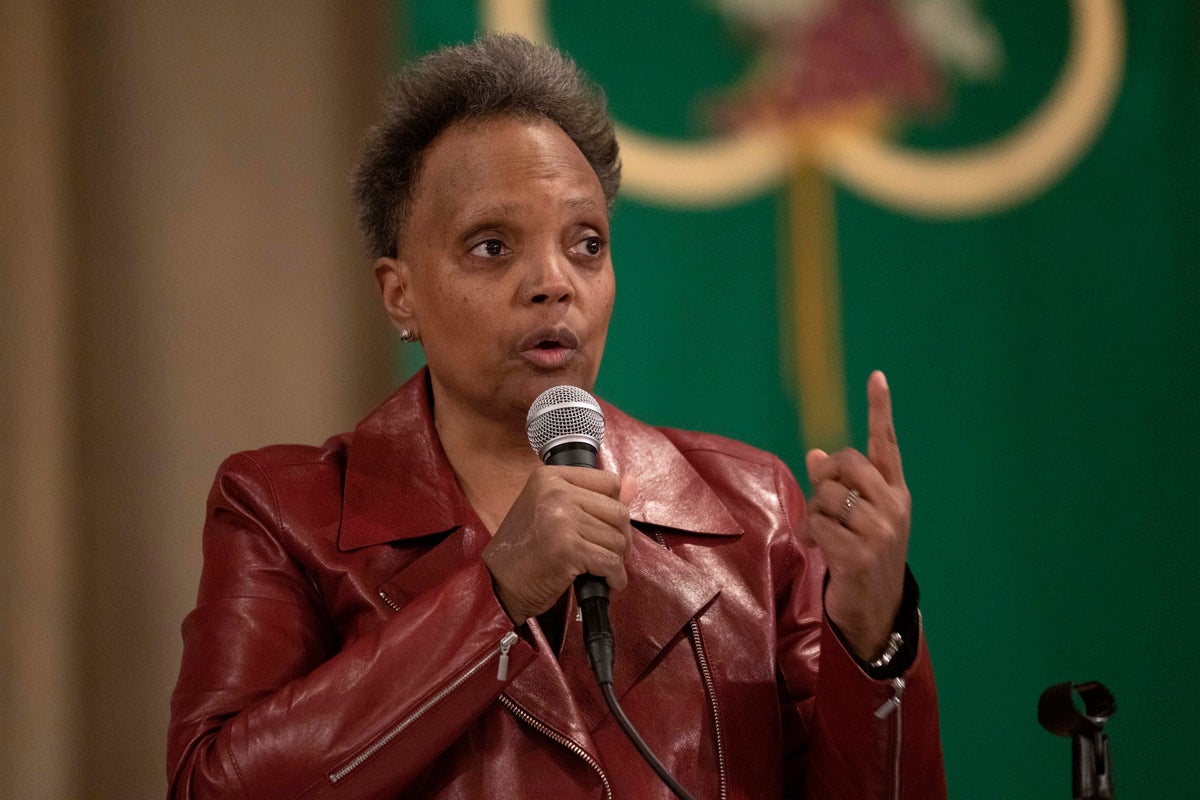 Lori Lightfoot made history as the first black woman and first openly gay person to serve as mayor of Chicago. Four years ago, she sailed to victory as an outsider who vowed to rid City Hall of corruption and create a safer, more just city.
But her candidacy for a second term has been hotly debated amid concerns about the continued high crime rate in the country's third-largest city and accusations that she is overly hostile and at times downright vicious – criticisms she has denounced as sexist and racist slur against a tough leader who is passionate about Chicago.
Ahead of a crowded election on Feb. 28, Lightfoot is forced to go on the defensive in a heated race that has become both a personality contest and a policy debate.
"We've begun to change Chicago for the better," Lightfoot said at a recent debate. "I want to finish the job we started."
With nine candidates in the race, it is unlikely that anyone will cross the 50% threshold needed to win the officially non-partisan election outright. That means the winner will likely be decided in a second round on April 4 between the top two voters.
If she lost, Lightfoot would be the first Chicago mayor in decades to run for re-election and fail. And unlike its predecessors, Lightfoot enjoys no fundraising advantage over its main rivals.
This year's election will be an early test of how crime plays a role in mayoral races in Democratic strongholds in major cities. Other major cities electing mayors this year, including Philadelphia and Atlanta, are also grappling with how to balance progressive ideals with residents' everyday concerns about their families' safety.
Lightfoot, a former federal prosecutor who had never run for political office, emerged from a crowded field in 2019 to defeat much better-known candidates with support from voters tired of political corruption and cover-ups.
She says her administration has made concrete progress on critical issues, from putting money into neighborhoods that have seen decades of disinvestment to getting illegal guns off the streets. But she notes that the past four years haven't been easy, with a global pandemic and police brutality protests she says were "some of the toughest times we've ever been through" in Chicago.
Lightfoot's handling of crises has sometimes been praised, such as when she ordered lockdowns early in the coronavirus pandemic and an image of the stern mayor became a popular meme. But at other times, Lightfoot's actions were called into question.
After the killing of George Floyd by the Minneapolis Police Department sparked protests and civil unrest, including storefront smashes and fires, Lightfoot ordered the city to raise drawbridges over the Chicago River in an effort to deny protesters access to downtown . Some in the city saw it as elitist, a way to protect posh parts of the highly segregated city at the expense of neighborhoods with struggling business districts that also suffered serious damage.
But Lightfoot has received the most criticism for increased crime, with homicides hitting a 25-year high of about 800 in 2021. Lightfoot says she has a plan that works, noting that the homicide rate dropped last year. But they're still higher than when she took office, and concerns have grown about other violent crimes in the city, including carjackings.
"We've made progress year after year," Lightfoot said. "But I recognize that people in the city don't feel safe."
Perhaps Lightfoot's most formidable opponent is two-time U.S. Representative Jesus "Chuy" Garcia, a former member of the Chicago City Council, Senate, and County Executive who lost a runoff eight years ago to then-Mayor Rahm Emmanuel.
Lightfoot has run TV ads accusing Garcia of corruption, noting that his House campaign took money from Sam Bankman-Fried, the former CEO of cryptocurrency exchange FTX who was accused of massive financial fraud. Garcia said he was unfamiliar with Bankman-Fried, and his campaign generated direct contributions.
Garcia praises his track record of working with communities across the city and playing well with others in a way he says Lightfoot doesn't.
"She is belligerent, unnecessary. She's over the top," Garcia said.
Elected as a reformist outsider who would rid the city of pay-to-play politics, Lightfoot drew criticism when a campaign worker emailed public school teachers seeking students to volunteer for the campaign in exchange for college credit. Lightfoot apologized and called it a mistake. Inspectors General investigate possible policy violations.
Some of Lightfoot's biggest battles were with the Chicago Teachers Union, which supported her first run for mayor. The two sides clashed during an 11-day teachers' strike in 2019 and bickered about returning to school education during the pandemic.
This year, the teachers' union supported Lightfoot rival Brandon Johnson, a Cook County Commissioner and former Chicago teacher and union organizer. Johnson, who has criticized Lightfoot for campaigning as a progressive and then breaking campaign promises, wants to shift money away from the police to better mental health and other services for long-neglected neighborhoods like the one where he lives in the west of the United States. city ​​of Kant.
Lightfoot has also run afoul of the Chicago Police Union, the Fraternal Order of Police. During a City Council meeting, Lightfoot was caught on a microphone referring to a union leader as "this FOP clown".
The police union has expressed support for mayoral candidate Paul Vallas, a former city budget director and school principal who served as an advisor to the police union during negotiations with city hall. He has repeatedly called for more police officers, saying "Crime is out of control."
Lightfoot has criticized Vallas as a Republican in disguise, noting that he has received campaign contributions from GOP donors. Her campaign accused him of being too cozy with the police union, which called the leader a "notorious bigot" and supporter of former President Donald Trump.
Lightfoot has increased its support in some parts of the city. Former Representative Bobby Rush, a major critic during her first campaign that became a prominent proponent this year, joined Representatives Danny Davis and Robin Kelly — whose districts include predominantly black neighborhoods — in praising her commitment to investing in the areas . Lightfoot maintained that commitment, Rush said, even "under the harshest conditions."
The mayor points to a record of achievements, including pushing through a $15 minimum wage that unions had been pushing for years and approving a long-sought casino that is expected to generate millions in revenue and thousands of jobs. She has also budgeted more than $3 million to protect access to abortion, including for people traveling to Chicago from states where the procedure is illegal.
In addition to Garcia, Vallas and Johnson, the other running candidates include wealthy businessman Willie Wilson, Chicago City Council members Sophia King and Roderick Sawyer, activist Ja'Mal Green and State Representative Kambium "Kam" Buckner.