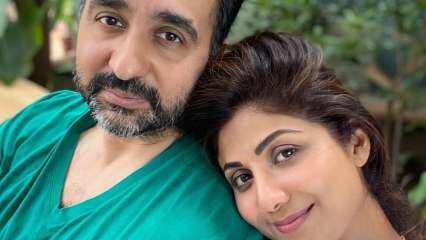 Shilpa Shetty and Raj Kundra have now been together for 11 years. The two rang on their special day with adorable wishes for each other. As Shilpa shared a photo of them with a moving wish, Raj took a step ahead and made a funny video.
Shilpa shared a photo in which she, posing in a white t-shirt, rested her head on Raj, who was seen in a green t-shirt. The two looked too much in love as they posed for the selfie.
Sharing the picture, Shilpa wrote, "No LOVE filter. The REAL DEAL. As we end 11 years today, I still only have eyes for you (and you). Something never changes . What … IS STILL! 11 years and not counting! "
Shilpa also shared how she addresses Raj. "Happy birthday, my cookie, @ rajkundra9," she posted.
It's here:
Shilpa also shared a funny video Raj originally posted. Their images are photoshopped in the cute and hilarious clip. Posting it, Shilpa wrote: "Ha ha ha. Sunday laughs at that! Now that's why it works … I love my crazy husband. Happy Birthday, Cookie!"
"I love you and I will always love you @theshilpashetty until I die and if there is life after that I will continue to love you. Happy birthday my darling # 11years #Anniversary #Eternal #loveyou", originally published Raj.
Watch it here:
Shilpa Shetty and Raj Kundra were fortunate enough to have a Viaan Raj Kundra son. More recently, they welcomed a little girl into their home. Shilpa had revealed that her name was Samisha Shetty Kundra. Samisha is currently nine months old and it is only now that Shilpa has given her little girl a glimpse into the world.
.