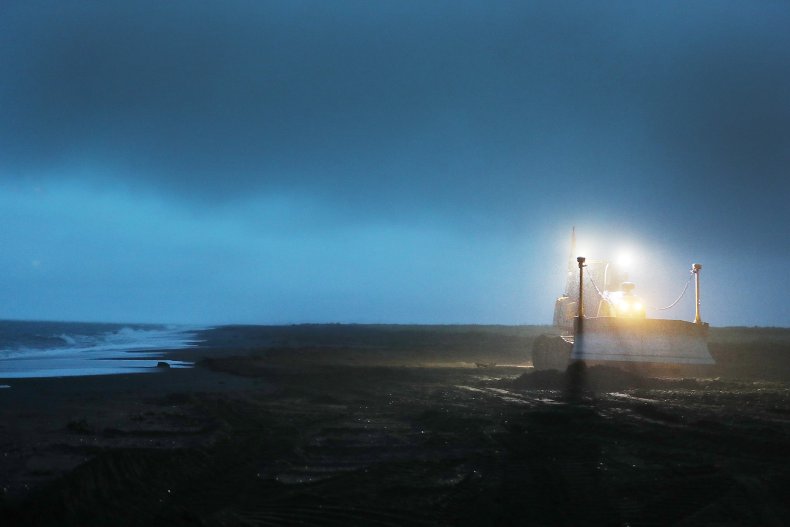 Footage from Alaska shows a storm flooding the state, causing flooding along the western coastline hit by the remnants of Typhoon Merbok over the Bering Sea.
In a series of tweets on Saturday, the National Weather Service (NWS) posted updates about the storm and shared videos and photos of the flooding.
"Major floods in Golovin. The highest water levels are not expected until this afternoon, the flooding will get worse. The water is around the school, houses and structures are flooded, at least a few houses are floating from the foundation, some older ones fuel tanks are tilted," NWS Fairbanks tweeted.
In a separate tweet, NWS Fairbanks shared images of rising water in Golovin, Alaska, showing groups of buildings partially submerged.
"Water is still expected to rise 1-2 feet this afternoon. Our thoughts are with the community," the NWS wrote.
In the meantime, another image showed buildings in Kotlik, Alaska, partially submerged, as well as an area near an airport in Unalakleet, Alaska.
Don Moore, director of the Alaska Environmental Science and Services Integration Center at the NWS, said: News week on Saturday that a storm of this "magnitude" is not typical at this time of year in Alaska. He added that they are more common later in the year, when sea ice has already formed and "usually serves as a barrier for these communities to keep waves down" and prevent flooding.
As of Saturday afternoon, some of the worst flooding hit towns in the Norton Sound region of Alaska. Moore said winds from the south are exacerbating storm conditions in the area.
"As long as that wind continues like this, the water will just be pushed up in that direction," he said.
However, meteorologists expect storm conditions along Alaska's south coast to improve during the day, but worsen in the north.
A video posted to Twitter early Saturday morning by Melissa Frey, a meteorologist with local news channel KTUU/KYES, showed the town of Hooper Bay, Alaska, inundated by seawater, and what appears to be damaged homes.
Frey described the situation, tweeting, "Houses of foundations, power cables down and roads under water."
On Friday, NWS Fairbanks Office meteorologist Scott Berg told: News week that the storm's "greatest impact" will flood "around homes and then over and around runways."
"That affects people's ability to get in or out of there because there are no roads going back to big cities like Fairbanks or Anchorage," he said.
Alaska Governor Mike Dunleavy said on Saturday that he had "declared a disaster for communities affected by the West". [coast] storm," saying officials have not yet received reports of any injuries.
"We will continue to monitor the storm and keep Alaskans informed as much as possible," the governor wrote on Twitter.
The NWS Alaska Region reported in another tweet on Saturday that water levels in Nome, Alaska, "are now above 10 feet, surpassing the November 2011 peak (9.86 feet)."
"The water will continue to rise throughout Norton Sound into the afternoon," it added.
News week has contacted the National Weather Service for comment.