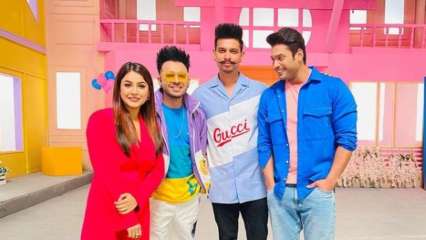 'Bigg-Boss 13' fame Sidharth Shukla and Shehnaaz Gill enjoy a huge number of fans on social media and their fans are watching their timeline closely for a glimpse of the stars. And so, every time the two of them make a post, it goes viral within minutes.
Whether it was their respective photos from Diwali or the viral video of Sidharth and Shenaaz filled with fans at a Punjab hotel where the duo were staying for a shoot, the two have always set the internet ablaze with their chemistry. Precisely, the reason the two were shipped #Sidnaaz when they appeared on the controversial reality TV show hosted by Salman Khan 'Bigg Boss 13'.
And now the latest photo Sidharth shared on his verified Instagram handle has left fans begging for more.
In the photo, Sidharth can be seen staring at Shehnaaz while the other three in the image, namely Shehnaaz Gill, Tony Kakkar, and Anshul Garg from Desi Music Factory, all look into the camera, posing for the click.
In said photo, as Sidharth wears a blush pink T-shirt, sky blue denim and a royal blue shirt with rolled up sleeves, Shehnaaz looks pretty in a red dress paired with red and beige colored sliders. Sidharth can be seen smiling from ear to ear as he looks like Shehnaaz while the photo is clicked.
"Coming soon @shehnaazgill @tonykakkar @nehakakkar @ anshul300 @ raghav.sharma.14661 (sic)," Sidharth captioned the post.
Upon noticing this, several #SidNaaz fans went to the comments section of the article and jokingly pointed out to the model-actor that the camera was in front!
"Najare kaha h Shukla ji (Where are you looking for Sidharth Ji?)," One user wrote. "Sidharth Bhai Camera Samne Hai Samne Ki Aur Dekho Wahan Kahan Dekh Rahe Ho," wrote another.
Another user pointed out.
"Sid's Eyes On Sana #SidNaaz Forever," commented another Instagram user.
Through the post, Sidharth teased their next video with Shehnaaz, the one they shot a few days in Punjab. However, this particular image from a show's set has also sparked rumors that the duo will appear on The Kapil Sharma Show, promoting their upcoming music video. Whether this is true or not remains to be confirmed.
.