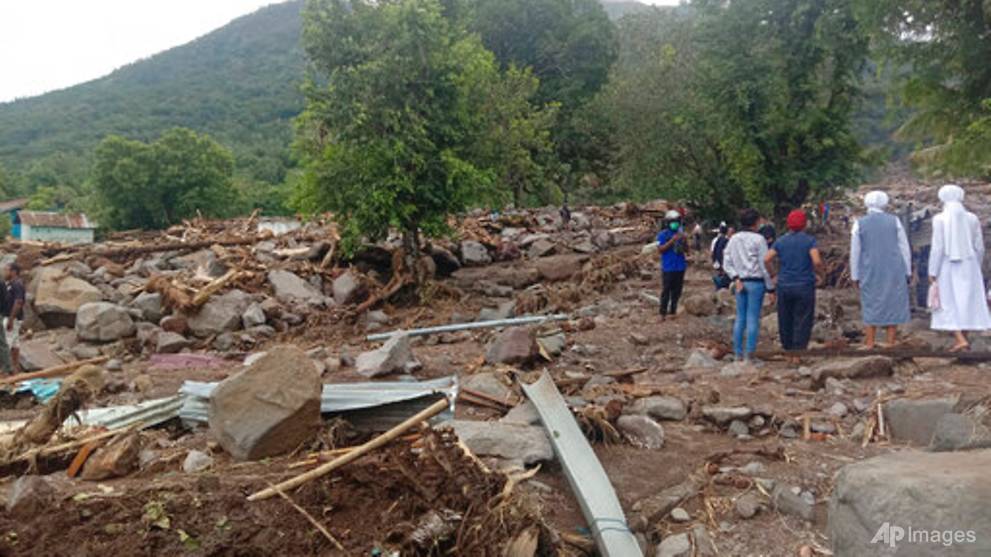 SINGAPORE: Singapore Foreign Minister Vivian Balakrishnan on Wednesday (April 7) sent condolences to his counterparts in Indonesia and Timor-Leste after landslides and floods that devastated both countries.
Tropical Cyclone Seroja hit Indonesia and Timor-Leste on Monday after torrential rains triggered floods and landslides that left at least 113 people dead and dozens more missing.
In his letter to Indonesian Foreign Minister Retno Marsudi, Dr Balakrishnan said he was "saddened to learn of the tragic loss of life and devastation" caused by the floods and landslides in East Nusa Tenggara and West Nusa Tenggara last week.
"Please accept my deepest condolences to the families of the victims and to all Indonesians whose livelihoods have been affected by these devastating disasters," he wrote.
"Our hearts are with the Indonesian people during this difficult time. Your government is swiftly undertaking relief and rescue efforts, and I have confidence that the Indonesian people will overcome this crisis with strength and courage.
READ: Over 100 dead in Indonesia, floods in Timor-Leste, dozens missing
Dr Balakrishnan expressed similar sentiments in his letter to the Minister of Foreign Affairs and Cooperation of Timor-Leste, Adaljiza Albertina Xavier Reis Magno.
"Please accept my deepest condolences to the families of the victims and to all Timorese affected by the floods. Our hearts go out to the Timorese people at this difficult time," he said.
He added that the Singapore government will provide US $ 50,000 through the Singapore Red Cross Society to support Timor-Leste in its relief and recovery efforts.
"I am convinced that Timor-Leste will overcome this disaster with force," he said.
READ: Indonesia prepares hospital ships for survivors of Cyclone Seroja

READ: Race to find dozens of missing in deadly floods in Indonesia and Timor-Leste

About 10,000 people have been forced to flee to shelters in the two countries, amid concerns over the spread of COVID-19. Some villages have been swept away and destroyed.
Search and rescue workers in Indonesia and Timor-Leste are rushing to find dozens of people still missing.
Singapore's Foreign Ministry (MFA) said Singaporeans in affected areas should closely monitor local news and heed instructions from local authorities.
"Singaporeans are also urged to keep in touch with family and friends so they know you are safe. Singaporeans in need of consular assistance can contact the service office of the Ministry of Foreign Affairs," said the Foreign Ministry.
Singaporeans in Indonesia can also contact the Singaporean Embassy in Jakarta.
.