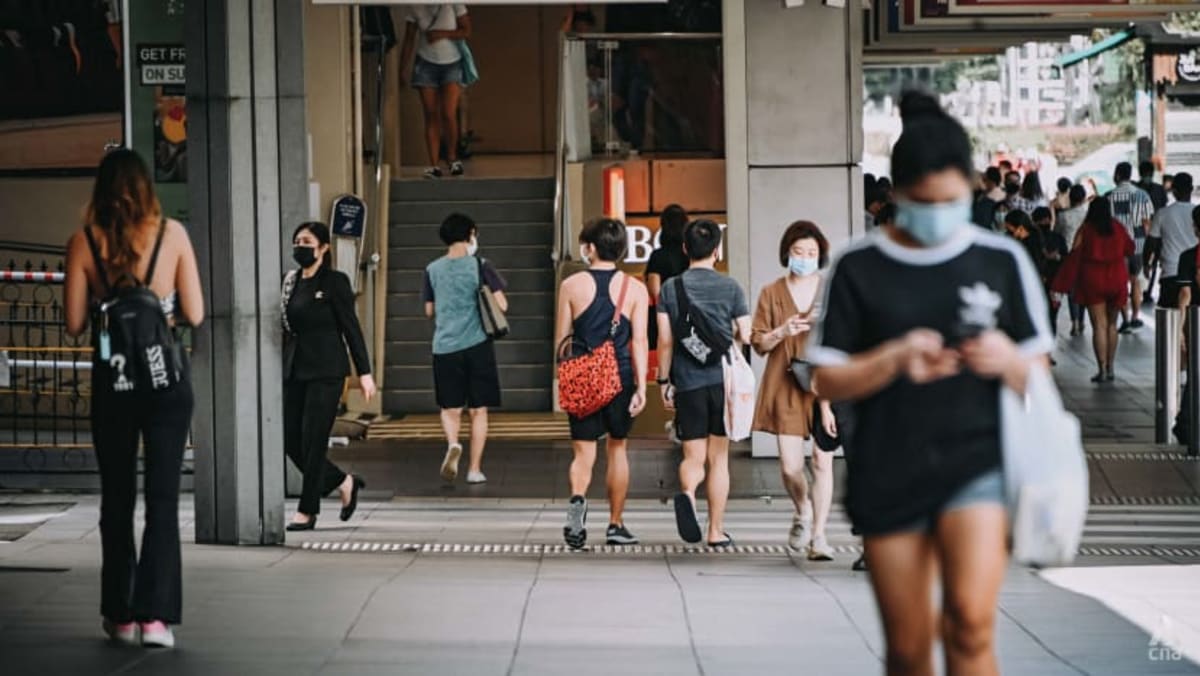 SINGAPORE: Singapore's economy is expected to resume recovery and is expected to grow at a "slower but still above trend" pace in 2022, the Monetary Authority of Singapore (MAS) said on Thursday (October 28th).
The country's economy is expected to grow "6-7%" in 2021, MAS said in its latest macroeconomic review.
"It is expected to grow slower but still above trend in 2022, unless downside risks from the evolution of the virus or other global developments materialize," the authority added.
PRE-PANDEMIC ECONOMIC PERFORMANCE
Since the start of the year, Singapore's economic growth has seen "spikes", as new waves of COVID-19 infections have resulted in several rounds of tightening followed by easing restrictions on movement, according to the report.
Domestically oriented activity has been "curtailed" as a result of these restrictions, but the trade-related and modern outward-oriented service sectors have performed better and have supported overall growth, he said. added.
However, MAS noted that the decline in economic activity in the second and third quarters was less severe than during the breaker period in the second quarter of 2020, as this year's measures were generally less stringent.
Businesses have adapted "to some extent" by shifting to other means of doing business, MAS said.
In the third quarter of 2021, aggregate economic production returned to its pre-pandemic level, although there were still significant performance disparities between industries.
"While the trade-related and modern service clusters exceeded their pre-pandemic levels by around 10% and 5% in the third quarter, the domestically oriented cluster remained around 10% below its level. before the crisis, "MAS said.
ECONOMIC PERSPECTIVE
The economy should continue to grow over the next few quarters when it reopens.
The domestically oriented sector is expected to experience a "gradual recovery in activity", while the outlook for the travel-related sector has also improved slightly, MAS added.
Singapore recently announced the expansion of its vaccinated traffic routes to more countries, including the United Kingdom and the United States.
The report adds that the recovery of consumer-oriented industries such as food and beverage, retail and ground transportation will be delayed at the start of the fourth quarter due to the high number of COVID-19 cases in the community.
The restrictions meant smaller groups for social gatherings and on-site meals.
"Nonetheless, there should be some support from online grocery and retail sales, which businesses and consumers have increasingly turned to," MAS said.
A wider reopening of the economy towards the end of the year is expected to improve attendance at retail and restaurants, although demand from foreign travelers is only expected to pick up gradually.
Travel demand is "not expected to return quickly or substantially in the near term," and the travel-related industry is expected to experience a "bumpy road to recovery," MAS said.
Some lifting of Singapore's border restrictions began at the end of the third quarter of 2021, with thousands of immunized passes issued to short-term visitors. However, this represents less than 1% of monthly visitor arrivals before the pandemic, MAS said.
A strong rebound in the travel-related sector may only materialize during 2022 when border barriers are removed "more substantially", while a return to pre-pandemic production levels is not expected until after. 2022, added the MAS.
Meanwhile, trade-related and modern service hubs will be supported by the recovery in major trading partners and the "continuing strength" of global demand for electronics.
LABOR MARKET, BASIC INFLATION SHOULD RESUME
Along with the recovery of the national economy, the recovery in the labor market is expected to continue in the coming quarters, MAS said.
Its report notes that the resident unemployment rate fell to 3.6 percent in August after climbing to 3.7 percent in July, suggesting that labor market under-activity should continue to be absorbed.
Resident wage growth also accelerated in the second quarter, bringing the wage level "back in line with its pre-COVID trend," the report adds. Companies in various industries have also reported ending the wage freeze and rolling back wage cuts.
As the labor market slowdown wears off in 2022, salary growth for residents is expected to strengthen.
MAS added that the costs of freight, consumer durables, energy and food have increased and may remain high in the near term as mismatches between global supply and demand persist. These pressures on domestic and imported costs "are expected to support a steady rise in Singapore's core inflation through 2022".
"In particular, the recovery in private consumption as part of a wider economic reopening next year should allow a greater pass-through of the cumulative costs of businesses to consumer prices," MAS said.
Core MAS inflation is expected to be "near the upper end" of the 0-1% forecast range in 2021, and further increase to 1-2% in 2022, the authority said.
CPI (Consumer Price Index) inflation – all items is expected to reach around 2 percent this year and an average of 1.5 to 2.5 percent next year.
.