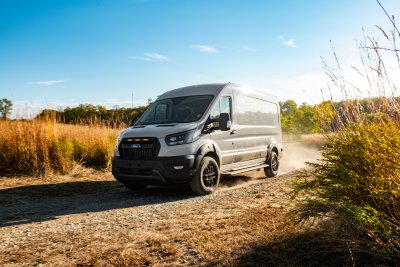 The Ford Transit Van has been transporting freight across Europe and the United States for more than 60 years. But vans are no longer just used for business cargo, or just for transporting sports teams. They are packed with camping gear and taken to the ends of the ridden roads in what is now called overlanding. The 2023 Ford Transit Trail is aimed entirely at those customers (who are also likely looking at the Mercedes-Benz Sprinter van for similar purposes).
Making the Transit the Transit Trail requires upgrading most of the mechanics and many of the accessories, but keeping enough to make traveling comfortable for at least two passengers.
It starts with 3.5 inches of extra ground clearance and 30.5 inches of Goodyear Wrangler Workhorse all-terrain tires and 16-inch black alloy wheels. The 2023 Transit Trail also features a 2.75-inch wider track than the standard model for greater stability on and off the road.
Four-wheel drive is standard on the Trail, along with Ford's 3.5-liter EcoBoost V6 engine that delivers 310 horsepower and 400 pound-feet of torque with a ten-speed automatic transmission. The towing costs £6,500, with Ford noting that this is enough to take out a smaller boat, four-wheelers or other adventure toys.
The 2023 Transit Trail differs from the base Transit with a black grille with integrated marker lights and black HID headlights, a unique skid plate style front bumper, fenders, wheel arch trim and sliding side steps.
It is available in three configurations, including medium and high roof models and an extended length with high roof. With the high roof, it offers headroom for people 1.80 meters tall. Other conveniences include SYNC4 with satellite radio, Apple CarPlay and Android Auto, a 12-inch touchscreen, 110 volts, 12 volts and USB outputs.
Like the other Transit trucks, the Trail is customizable with spaces for shelves and beds. A roof vent is optional, and an optional Upfitter package adds an exterior light bar, upfitter switches, a larger center console, an additional fuse panel with a high-quality interface connector, dual AGM batteries and a custom vehicle wiring system.
Like other vans of this nature, the 2023 Ford Transit Trail will be a canvas for professional mechanics to transform these empty vans into full leisure vehicles. Ford recommends its own network of technicians, through which customers can contact a Ford dealer for service.
The 2023 Ford Transit Trail starts at $65,975 excluding taxes and destination.